What it's like to rent an apartment in Paris
You've asked, and here it is…our "home" in Paris for two weeks. Usually I try to photograph our lodgings immediately upon arrival before we've unpacked. But we arrived late at night, and by the next morning had begun unpacking, so I waited to take photos until we were packed up and ready to leave (and had a bit more light).
The apartment was on the 2nd floor (which would be the 3rd floor in the US). No elevator, and a very steep, narrow, spiral staircase was the only access. The gentleman who met us to provide keys and show us around very kindly helped us get some of the luggage up the stairs. If you saw my video in Instagram Stories last week, you get a sense of the climb. Good exercise, though! 😉
"Our" Paris apartment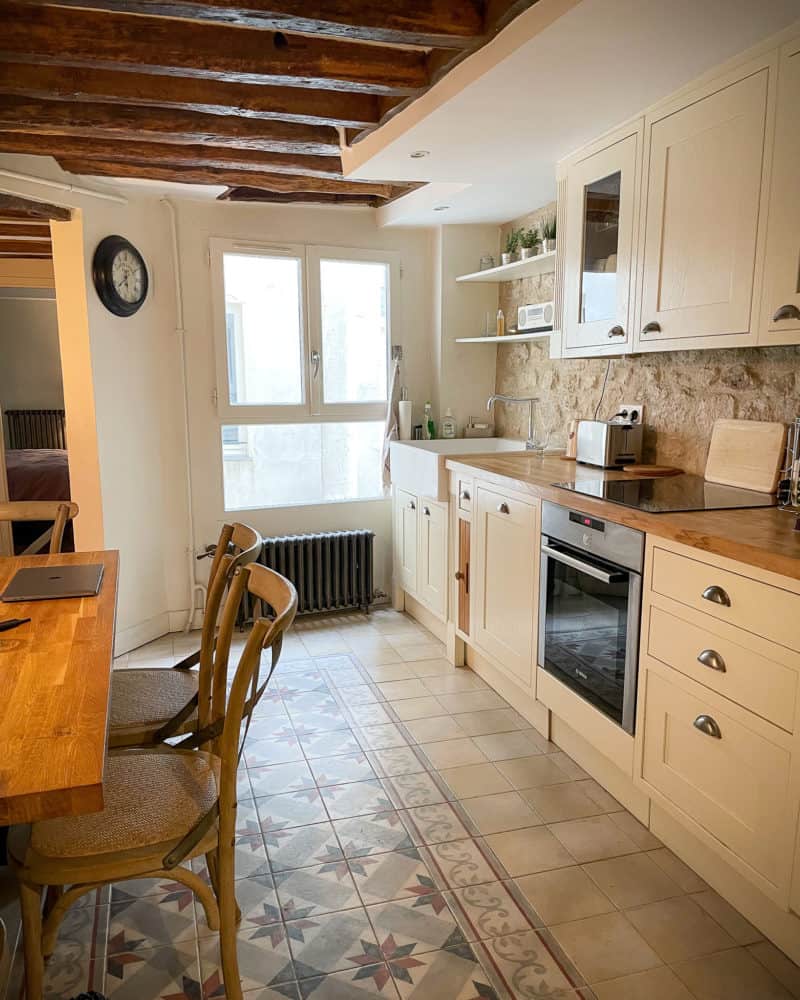 You enter the apartment through the kitchen, which was pretty spacious for a Paris apartment. It was also updated and well appointed with a toaster, kettle, Nespresso machine, and even a dishwasher! We didn't do any fancy cooking, but found whatever we needed for simple meals or re-heating leftovers.
From the kitchen, there's a step down into the living room, which was also quite a nice size. (The sofa is also a sofa bed, if needed.) The door in the corner goes to the W.C. and bathroom. (Toilets are often in a separate space from the rest of the bathroom.)
Above, looking back from the bathroom door to the kitchen. I love that they've kept those charming wood beams visible.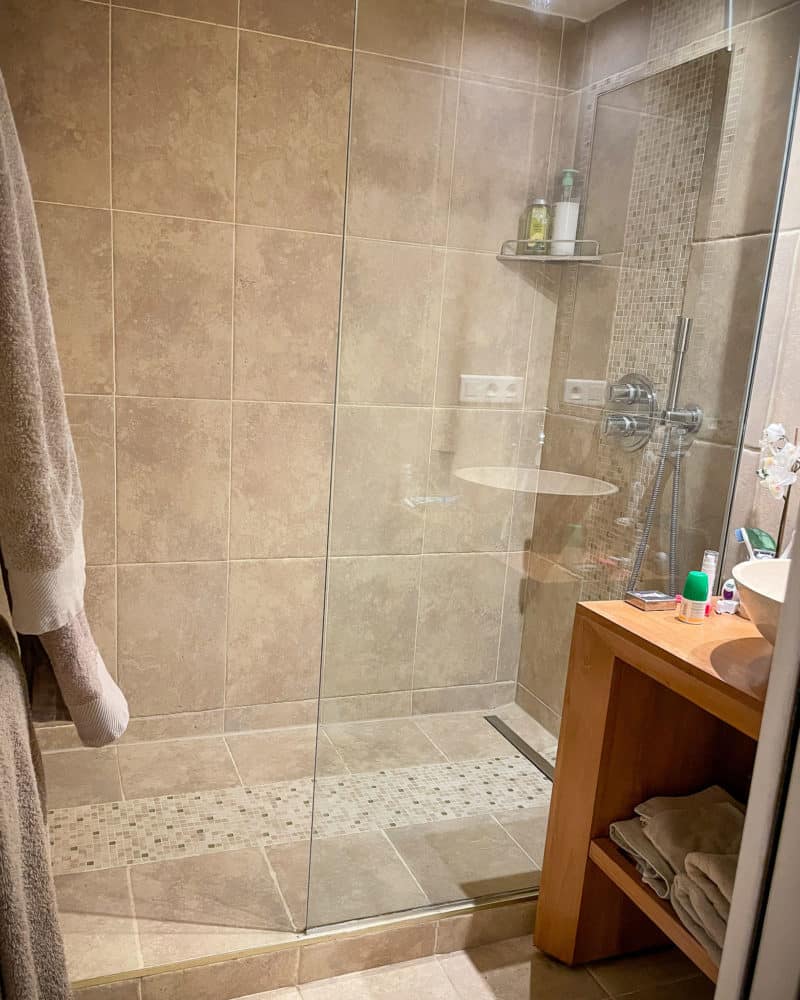 Here's the shower/sink area of the bathroom. While a compact space, it was workable and nicely appointed. The shower is actually quite large by Paris standards. There was a (good) hair dryer provided too, and a heated towel rack.
And the bedroom. The bed is queen size, and was quite comfortable. All of the bedding is linen. To the right of where I'm standing is an armoire for clothing (and with a programmable safe). Behind me is a washer/dryer. It was a newish model, and once I figured it out, it worked quite well.
A few more notes about "our" Paris apartment
Pros
Location, location, location! We were right in the heart of the 1st arrondissement, close to 2 metro stops and walking distance to most areas within the 2nd-9th arrondissements. It was really easy to get around from there!
Responsive owner. Whenever we had questions or something didn't seem to be working, they were on it within a day.
A comfortable, well laid-out space that's well-maintained.
Lots of good restaurants and "to-go" food options nearby.
The owners provided a booklet with clear details (in English and French) of how everything works, where the local marchés, grocery stores, shopping, and recommended restaurants, as well as transportation, etc.
Cons
Not a lot of natural light. All of the windows faced tall buildings next door.
Those stairs, again. (Really only an issue coming/going with luggage.)
There was some construction/refurbishment going on in the courtyard entry to the building. While we didn't notice any noise, it did mean having to be careful moving around guys on ladders and construction materials when coming and going.
Overall, it was quite workable and certainly cost less than a stay at hotel would have. We enjoyed being able to eat in occasionally, and have a home base from which to take a short 2-day trip out to Epernay.
Here's the rental as it's listed on Vrbo. (This owner has two apartments, and photos from both appear in the listing.)
Have you rented a vacation apartment in Paris or other cities? Any tips and suggestions?
Our side trip to Epernay, in the Champagne region:
Stay in touch
Sign up to be notified of new posts and updates from une femme d'un certain âge.