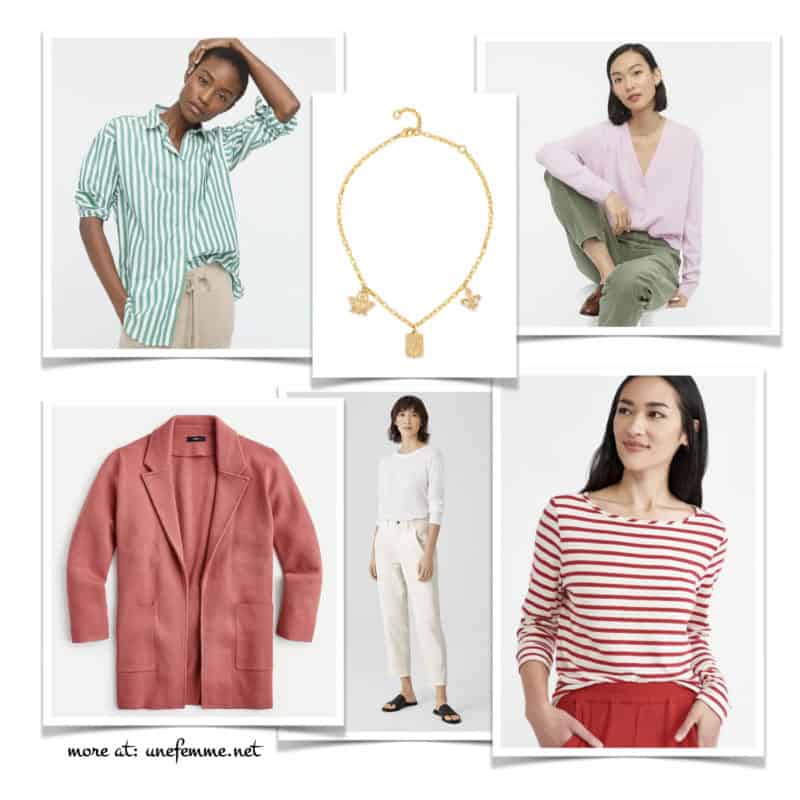 Strategic shopping for Spring & Summer
There's been much talk in the past year about fashion brands shifting their deliveries to align more closely with actual seasons. So theoretically, coats would hit the racks in Fall rather than mid-Summer, and swimsuits in Spring, rather the mid-Winter.
Please note: other websites are re-publishing my content without permission. If you are not reading this at https://unefemme.net, please click through to read where originally published and copyrighted.
I remember once trying to replace a Winter coat in February ahead of a last-minute business trip, only to find stores full of sundresses and shorts, with only a few sad coats left on a clearance rack. So yes, I'd welcome this shift. But I haven't seen it happening yet.
In the meantime, I've learned to be opportunistic and shop ahead of the season. I've realized that some of my most-often-worn Summer pieces were from Resort or Pre-Spring collections, purchased in January or February. (And were often out of stock by the time I was ready to wear them…)
Pre-Spring pieces are starting to trickle in. I've been checking out new arrivals and keeping eyes open for the types of items I'm always looking for come Spring and warmer weather. And I spotted some nice wear-now-wear-later options too in the mix.
Lightweight Pants
A pair (or two) of lightweight trousers is one of those items that's always on my Summer Wish List. These tick all of the boxes for me! They're a lightweight denim fabric (undyed Organic cotton). The fit is relaxed but not baggy, and they have that subtle lantern shape that I like so much. And the placement of those front slash pockets is flattering.
I originally ordered the Regular size when they first came online, and liked them enough to consider having them shortened. But as of this week, they're now also available in Petite and Plus, so I've ordered the Petite size to compare.
There's also a straight leg 5-pocket version, if you prefer that silhouette.
Colorful Spring Tops
Striped or print tops in lightweight fabrics are something that I can always use more of. This one's sustainably produced in a soft and lightweight cotton/Modal blend. That alternating stripe border on the neckline is a nice detail! And for every tee purchased, they plant a tree. Sizes XS-L. (The Small is a relaxed but not oversized fit on me.)
For fans of a cheerful Liberty Print, here's a new shirt. Layer under a sweater now, wear on its own later. Available in sizes 00-24.
Here's another option in stripes. Wear this buttoned as a shirt or tunic, or open as a lightweight topper over a tank or tee. Sizes 00-24.
Transitional season layers
This Sophie sweater blazer has been a versatile favorite for several seasons. Mine are neutrals, but I'm really tempted by this warm pink. (While not a Summer piece, it's perfect for 6 months out of the year here, Spring and Fall.)
Relaxed but refined, this v-neck cashmere cardigan is available in several colors, sizes XX-Small to 3X. This has travel wardrobe potential… (There's are matching shells, too…)
Just love this cute plaid raincoat! It's laminated cotton, so light enough for Spring…
Paris-inspired, L.A. made…
French Kande just released a new limited collection in their FK Petite line, and I love it all! If you prefer your jewelry on the more delicate side, you'll want to take a look at these. Here are a few of my favorites:
These necklaces can be worn alone, or look amazing layered up. All French Kande pieces are made to order in Los Angeles by California artisans. I can vouch for the excellent quality!
Do you shop ahead of the season, or wait until you're ready to wear it?
Affiliate links in posts may generate commissions for unefemme.net. See my complete disclosure policy here.