What I'm using on my skin these days
A few of you have asked me about my skincare routine; here's what I'm using this summer to keep my mature skin looking its best.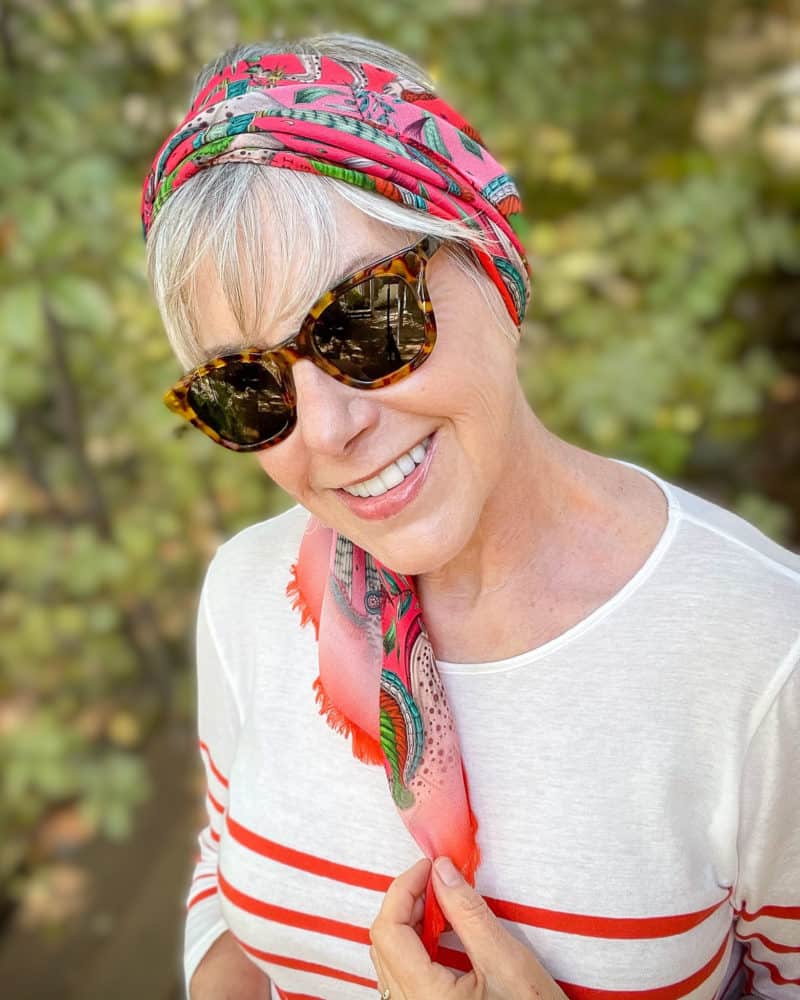 I've been wearing less makeup these days, so I do my best to keep my skin looking healthy. I'm all about products that are effective, and don't hesitate to switch up my routine if I find a product I like better.
My summer skincare routine for mature skin
You could say I'm lazy 😉 but I like to keep things as simple as possible. Currently there's not much difference between my morning and evening skincare routines.
Cleansing
I usually only use a cleanser at night, and just rinse my face in the mornings. If I've worn makeup, I'll cleanse with Vichy 3-in-1, as it removes makeup well without irritating my eyes. I also like Colleen Rothschild Radiant Cleansing Balm for a deep clean that feels like a spa treatment.
Brighten/exfoliate
In the mornings, I like to use a vitamin C serum. I like this one from OLEHENRIKSEN a lot, which brightens without being irritating. I think it helps even skin tone and keeps dark spots under control. (I've learned to be careful with Vitamin C serums, after a recent experience with a product that was too strong and burned my skin.)
In the evenings, I use prescription Retin-A every other night. It's expensive as my insurance doesn't cover it, but I think it's a worthwhile investment. It also evens my skin tone and clarity, and helps smooth the texture.
Eyes
I've been using Brian + MW Illuminate & Contour Eye Treatment for a few years now because it works! It really reduces the crepe-y texture on lids, and reduces puffiness. I just apply a small amount around the orbital bone. (A little goes a long way…) Currently, this and other Brian + MW products are 10% off.
Moisture
I tend to rotate between moisturizers depending on what's available and how dry my skin is feeling, but am currently using Filorga Time Filler both morning and evening. Another one I like is Charlotte Tilbury Magic Cream (it has a light rose fragrance which I like but be aware if you're sensitive to fragrance).
One of my pet peeves with moisturizers (and other skincare products) is a formula that doesn't feel like it absorbs into my skin, but sits on top or feels "tacky." Both of these moisturizers absorb nicely.
Smooth & firm
Brian + MW Re-Creation Lip Treatment has become one of my Holy Grail products. I use just a pinhead size drop of this 2-3 times daily to keep my lips smooth, plumped, and moisturized. It keeps my lips from flaking, and helps lipstick stay in place longer.
I noticed a real improvement in the texture of the skin on my neck within 2 weeks after I began using Brian + MW Firming Neck & Throat Creme. I use this twice daily.
You can save when you buy all 3 of my Brian + MW favorites, Eyes, Lips & Neck plus an additional 10% off sitewide!
Sun protection
I've been using sunscreen pretty religiously since my early 30's. My dermatologist recommends a mineral sunscreen with a high SPF. Over the years I've tried several, and for the last several months have been using ISDIN SPF 50 mineral sunscreen.
I'm quite happy with this one. Even applied liberally it dries to a clear finish and doesn't leave a strong white cast. It works well under makeup and doesn't flake or pill over time.
When I'm out in bright sunshine, I've also made it a habit to wear dark sunglasses to protect my eyes and the skin around my eyes. And for any prolonged sun exposure, I've begun wearing hats whenever possible.
Medical treatments
Once a year, I have an IPL laser treatment to fade dark spots and pigmented lesions. It also promotes collagen production and plumps my skin a bit.
Do you adjust your skincare routine seasonally?
Stay in touch
Sign up to be notified of new posts and updates from une femme d'un certain âge.