To borrow a baseball metaphor, Summer has rounded second base and is heading to third. If your summer wardrobe could use a boost to get you through the next few (or several) warm weeks, I have a few suggestions. All are pieces that can transition into fall with the addition of a jacket or sweater, and won't look dated come Spring.
Just a note: if you subscribe by email, you may be getting a "suspicious link" warning. It IS safe to click the link. This is a recurring glitch and is being looked into. In the meantime, you can add "info@unefemme.net" to the "safe senders" list in your email account, and that should eliminate the error message. Thanks for your patience!
Summer Wardrobe Refreshers
Above, a striped popover top. Wear now with white jeans, later with dark wash or trousers and a navy blazer. Sure, blue stripes are a perennial, but the green pops and feels fresher. Offered up to size 24.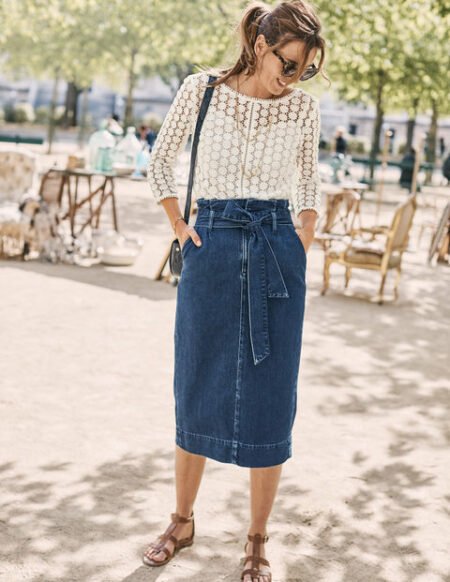 What to wear out to dinner on the terrace? This simple lace top is 100% cotton (the camisole too!) so will be cool and comfortable. The streamlined shape will layer well under a sweater or jacket later on. Available up to US size 18. (In black also.) For those who are interested in the skirt, it's HERE.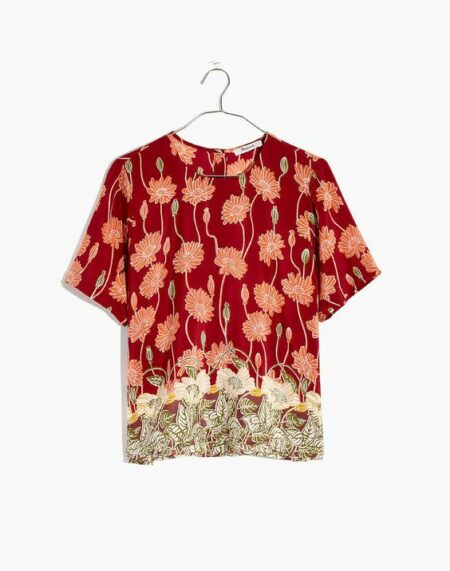 This silk top is SO pretty in person! It's interesting enough to be the focal point of an outfit, will also layer well if needed. There's also a dress in the same print.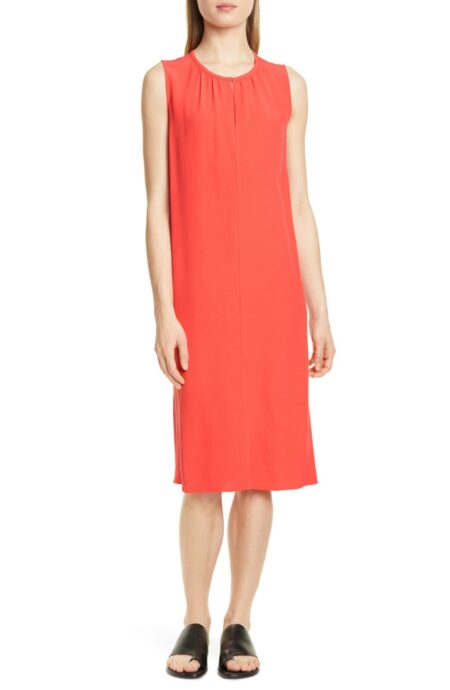 Speaking of dresses, this easy shift dress is much better in person than it looks online. The fabric has a little crispness to it, so you could dress up for a summer wedding, or dress down for apéro by the water. The color is a bright coral, would look great with gold or turquoise jewelry. It's also on sale…50% off! Here's the same color in a similar style in Plus.
And here's something that would look fabulous with it…
This cotton scarf (now sold out, still available in the cool colorway) is from the Chic At Any Age Shop. It's large enough to wear as a wrap. Josephine sources her beautiful and budget-friendly scarves from the marché near St. Tropez.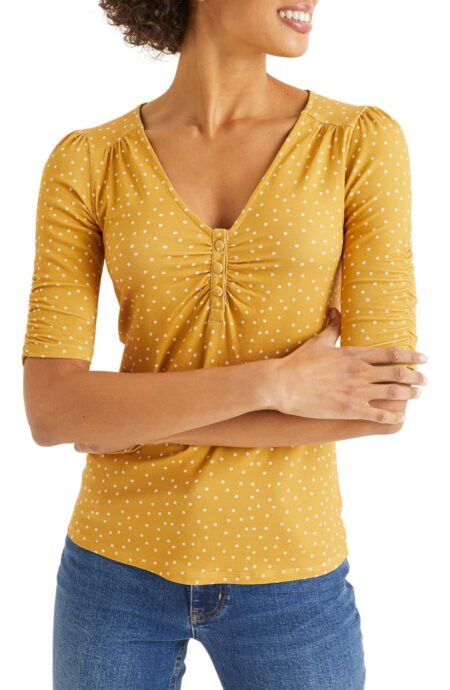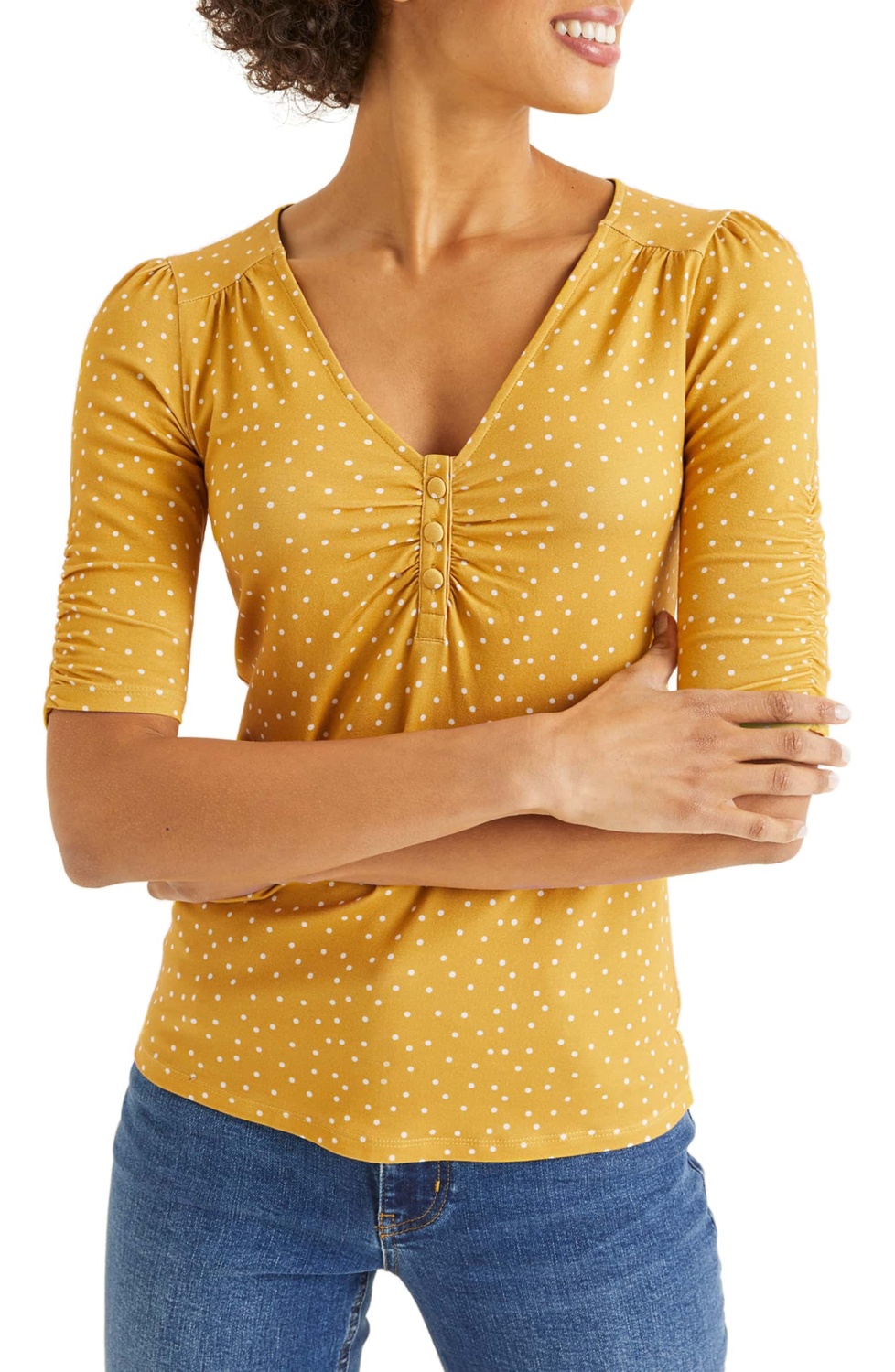 Ochre yellows continue to be on-trend for fall. The gathers and button details on this knit top take it up a notch from an ordinary tee.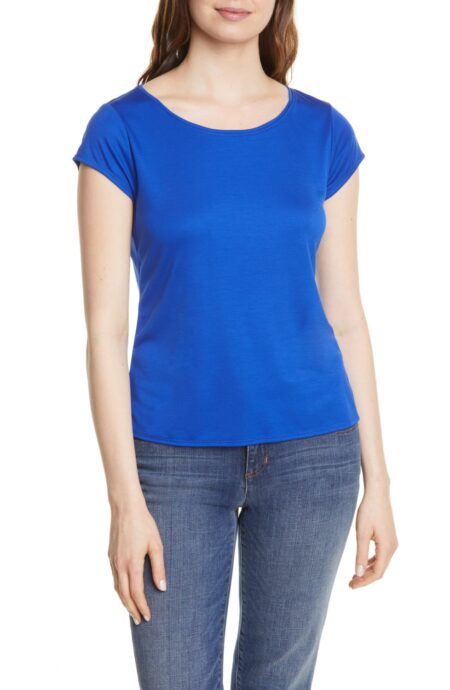 Cap sleeves tend to divide the masses: people either love or hate them. If you're in the "love them" camp, this is an updated version of the silk cap sleeve tee that Eileen Fisher offered a few years back. This time it's made from sustainable Tencel, and is offered in several colors. Royal blue is another color that seems to be making a strong showing for fall. In Plus, it's available in a soft nude pink.
Have you added any fun summer wardrobe refreshers lately?
Affiliate links in posts may generate commissions for unefemme.net. See my complete disclosure policy here.