Throwing a curve: 3 easy outfits with barrel-leg pants
While I'm a believer in building a core wardrobe of simple, timeless pieces, sometimes a "wild card" or two is just the thing to breathe some new life into our look. I'm wild about these slouchy soft twill pants, and found them surprisingly easy to style. Today I'm sharing 3 outfit ideas with barrel-leg pants.
Over the last decade, I've probably purchased at least a dozen pairs of classic trousers. And almost never wore them. I kept thinking maybe it was the cut or color or fabric that wasn't working, and kept trying out variations on the style. But a few months ago I realized that the classic trouser style is just too staid for me.
One of the clues that tipped me off was how much more comfortable and "myself" I felt in the Eileen Fisher lantern pants. I love the curved shape, and that they feel relaxed but polished. So I've been keeping my eyes open for more curved and barrel-leg pants that will work with my frame and wardrobe palette.
I'd been eyeing several styles of curved and tapered pants at Ruti, and finally was able to get to a store to try them on. The color of this pair caught my eye, and they were an immediate YES! as soon as I slipped them on. But the real test was whether I'd be able to style them easily, and they passed.
3 easy outfits with barrel-leg pants
1. polished playful
I'd been wearing this sweater when I tried the pants at the store, so started with the same combo. The color of the pants is a mustard-y camel, and I love how it looks with the leopard print belt!
2. going out
Normally I'd wear jeans with this look, but really like how the pants add something unexpected, while still looking relaxed and laid back.
3. toned down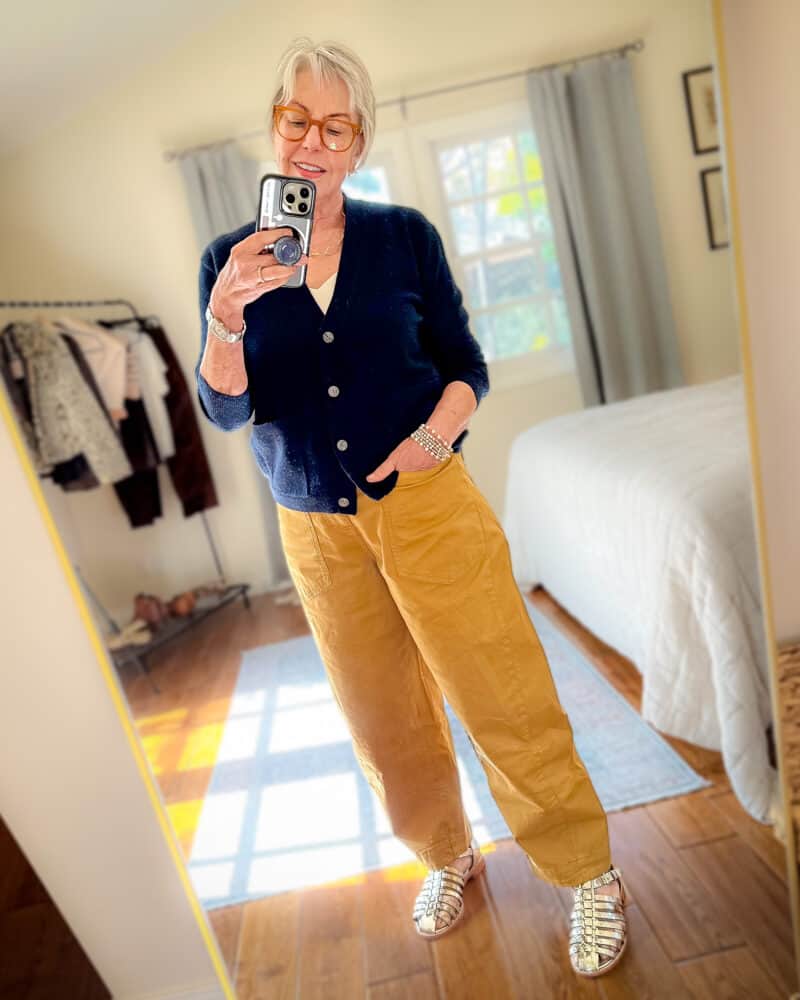 Some might find navy and mustard an odd pairing, but I like it. The classic-ness of the navy cardigan dials down and grounds the look a bit.
Now, I know these pants aren't to everyone's taste. And no, they don't make my legs look longer and thinner, but that's not the point of them. If you do like them, but this color isn't for you, they're also available in shades of black, charcoal, and gray. I'd say they run true-to-size; I'm wearing a 1 which corresponds to US size 6. And they are available to US size 16.
I also have this similar style on order in the blue color (which corresponds to the Bright Navy in my Spring palette). I'll report back once I receive them.
What "wild cards" do you have in your wardrobe?
Stay in touch
Sign up to be notified of new posts and updates from une femme d'un certain âge.