Thursday Miscellany: Fall Bags And More

My Latest Bag Crush
I probably get dozens of unsolicited catalogs each week in my mailbox. Usually it's a quick glance and then into the recycling bin they go.* Something about the DeMellier London catalog caught my eye though, and I set it aside.
I'm always on the lookout for bags that are stylish as well as functional, and these designs really appealed to me. They're sleek but not boring (thanks to some really fabulous colors.) They're refined but not fussy. There aren't a lot of superfluous details or hardware. The branding is unobtrusive. And they're moderately priced for quality leather bags. (Above, the Oslo crossbody bag.)
I saw that shipping and returns are free on orders over $250, so ordered one of the bags to examine. (Shipping is FAST, BTW. I received the bag within 3 business days from the UK.) The quality is indeed excellent. I love the color too, and am keeping it. This is the Mini Berlin in Forest Grain. It's a smaller bag, holds my wallet, phone, keys, travel-sized lotion, business card case, and lipstick. Perfect for running errands or going out. It has an adjustable cross-body strap, or can be carried in hand with the top handle (does not fit over the arm, though).
You'll be seeing this one in an outfit post soon, and I'm considering trying the larger size in a different color.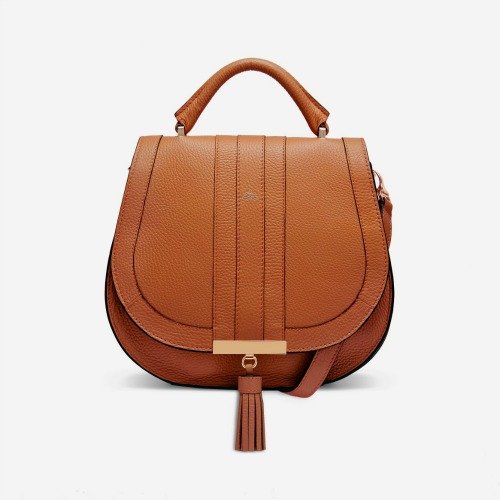 I also really like this style (Midi Venice) with both a top handle and cross-body strap. If you prefer your bags in a neutral shade, tan leather goes with everything.
I feel good about supporting a smaller woman-run business, and especially one that creates beautiful and useful products. And I love companies that are finding ways to do some good in the world: for each bag purchased, DeMellier will fund lifesaving vaccines for children in need in conjunction with SOS Children's Villages.
There are many more styles, from wallets and leather accessories to laptop totes. And most styles include free monogramming if you like! You can see the full range of bags on their website.
The Iconic White Shirt And Another Good Cause…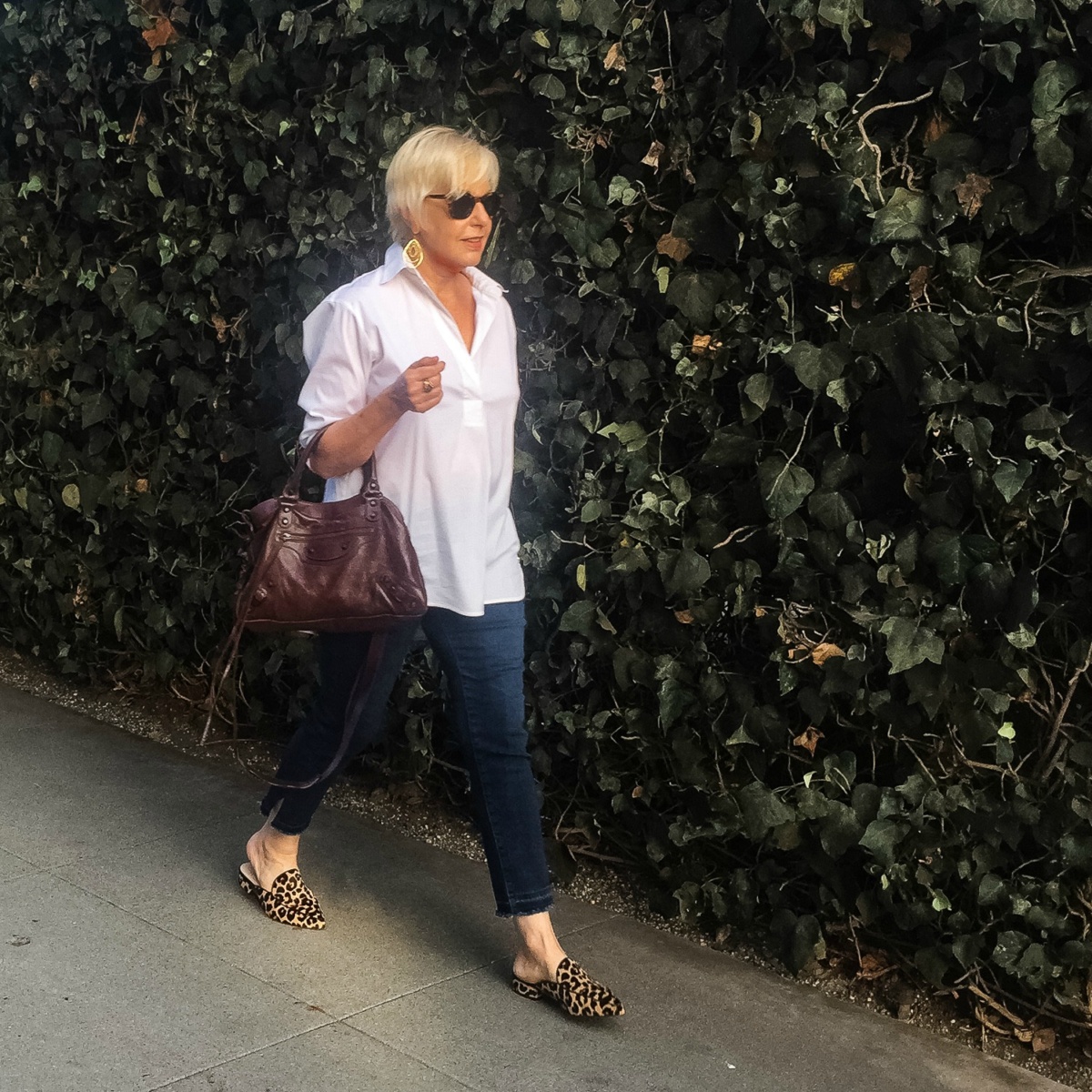 If you follow me on Instagram, you may have seen this recent post in conjunction with Lafayette 148 New York. They sent me this beautiful white shirt in Italian stretch fabric to style and share on Instagram. It's part of their #MyWhiteShirt campaign to benefit #SchoolofDreams which provides a free elementary education to children in Shantou, China. For each time the #MyWhiteShirt and #SchoolofDreams hashtags are used, they will contribute $10. So if you'd like to take part, show us how you style your favorite white shirt and post on Instagram with those hashtags. (Shoes here.) Shirt c/o Lafayette 148 NY.
Do you like to add some color with your handbags, or do you stick to neutrals?
*I've had more than one person suggest that I should write to the companies sending catalogs and request to be taken off their mailing lists, but at this point the effort seems daunting.
Stay in touch
Sign up to be notified of new posts and updates from une femme d'un certain âge.