What I'm packing for 2 weeks in London
I'll be leaving for London soon, and am really looking forward to this trip! I have loads of activities and meetups with friends already scheduled. And lots more on my list to check out once I arrive; I'm sure I'll have no trouble keeping busy. But before I go, I wanted to share my London travel capsule wardrobe: what I'm packing and why.
(You may have noticed that I haven't mentioned Paris. I've decided to postpone that part of the trip until next spring, as the girlfriend I was going to meet up with is no longer able to go. I'll also be able to schedule more time in Paris then.)
My travel capsule wardrobe for London
So this is probably one of the most pared-down travel capsules I've packed to date. (10 pieces, not including shoes, outerwear & "underpinnings.") There are a few reasons for this. First, because these pieces work so well in so many different combinations, it just didn't feel like I needed more. I'm staying with friends, so will be able to do laundry if I need. And, I always seem to end up doing a bit of shopping in London 😉 🛍️ , so can supplement if needed.
It's been cool and wet in London, and per the current forecast, doesn't look like it's going to warm up during my visit. So this capsule is pretty sweater-centric. I decided to go with brown/beige/camel as my neutrals, and add red as my primary color accent. (I'll add more colors with scarves.)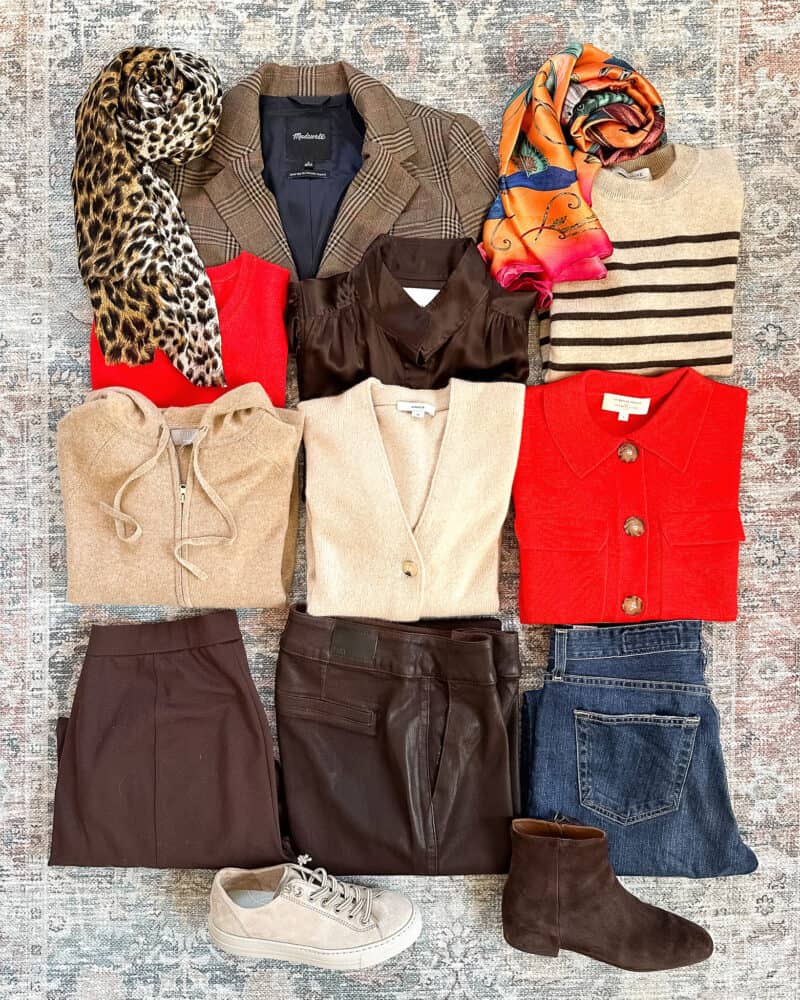 Planning a travel capsule wardrobe is always a matter of balancing practicality and style. Many clothes that travel well can be a little….bland. And more stylish pieces don't always pack and travel well. But I think I achieved a pretty good balance this time. Breaking it down (photos have been lightened slightly to better show detail):
Shoes
I'm only bringing 2 pairs this time, a pair of comfortable, stylish sneakers*, and a pair of weatherproof ankle boots (also comfortable enough for extended walking). The suede boots can dress up as much as I'll probably need.
*yes, with socks. 🧦
Pants
Tops & pullovers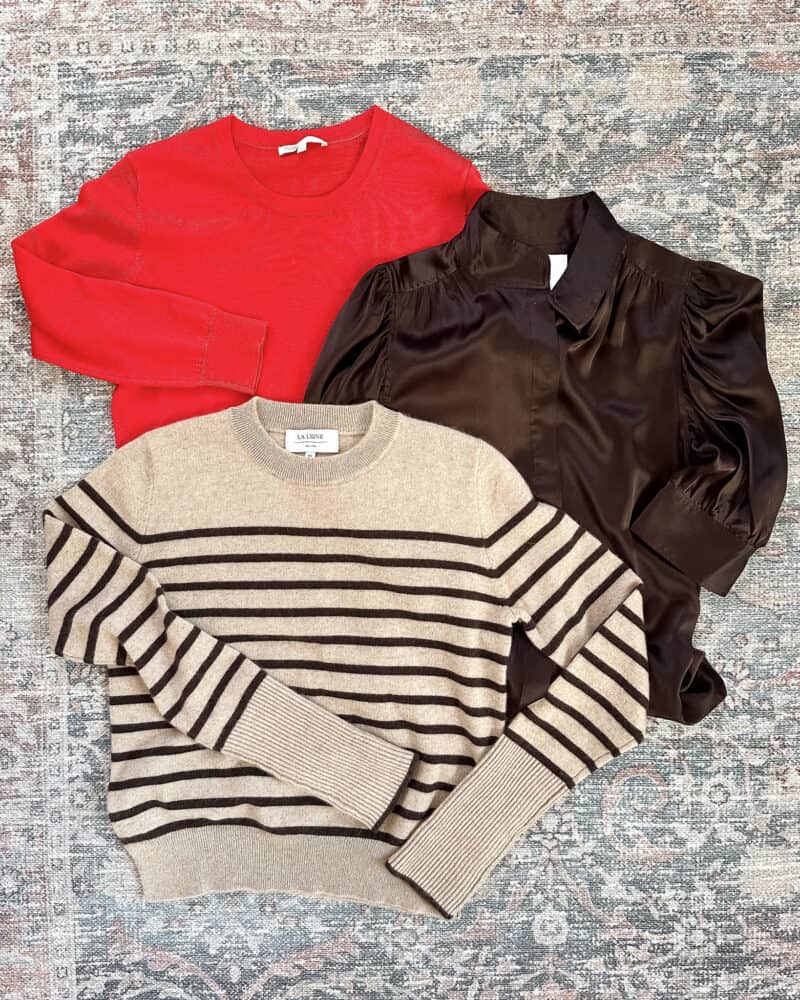 Merino crewneck. Mine's a few years old, here's one that's similar. I'm always banging the drum about merino wool for travel: it's lightweight, comfortable in a range of temperatures, doesn't hold odors, and is usually washable (dry flat). A style like this can layer under shirts, other sweaters, jackets.
Silk blouse. This is my "dress up" piece. I purchased this top last year, and this espresso color works so well with the coated denim trousers. Even though the sleeves are puffy, they layer well underneath cardigans or jackets. Yes it's a bit spendy; here are some options that are more budget-friendly.

Jackets & cardigans
Cardigans can be such versatile players in a travel wardrobe. Wear closed as a top/sweater, or open as a topper over another layer. This time I maximized my sweater options by including three!
Outerwear & accessories
When I refer back to my prior travel wardrobe recaps from late fall, I'm reminded that I often wished I'd brought more outerwear options. My London friends have warned me that it's turned chilly, and advised me to bring a wool coat. Both of the coats above are several years old.
Wool coat. This one is from agnes b., purchased in Paris in 2017, I think. I still love it, and don't have as much opportunity to wear it Southern California. It's quite soft and lightweight, but very warm. Here are a some with a similar look:

Packable down. My truly water-resistant raincoats are all a bit too lightweight for this time of year in London. So I'm bringing this one as an alternative. (Similar: Misses / Petite / Tall / Plus) It's very water-resistant (even after all these years), lightweight, and packs down to nothing. But I'm probably going to shop for a good quality raincoat while I'm there.
Scarves. I'll be bringing several, both for warmth and to add color and interest to my outfits. Shown at top: leopard print, printed silk.
I have room for a "wild card" or two, which I'll select just before I leave for the airport.
You can find more travel-friendly styles in my SHOP. And for more packing tips and wardrobe ideas, be sure to visit my Travel Wardrobe Resource Hub. 🧳
I'll be sharing some updates from London, and have pre-scheduled a few posts, so be sure you've subscribed to get all of the latest. And if you're on Instagram, you can follow me there to see what I'm up to in London in "real time!"
Stay in touch
Sign up to be notified of new posts and updates from une femme d'un certain âge.