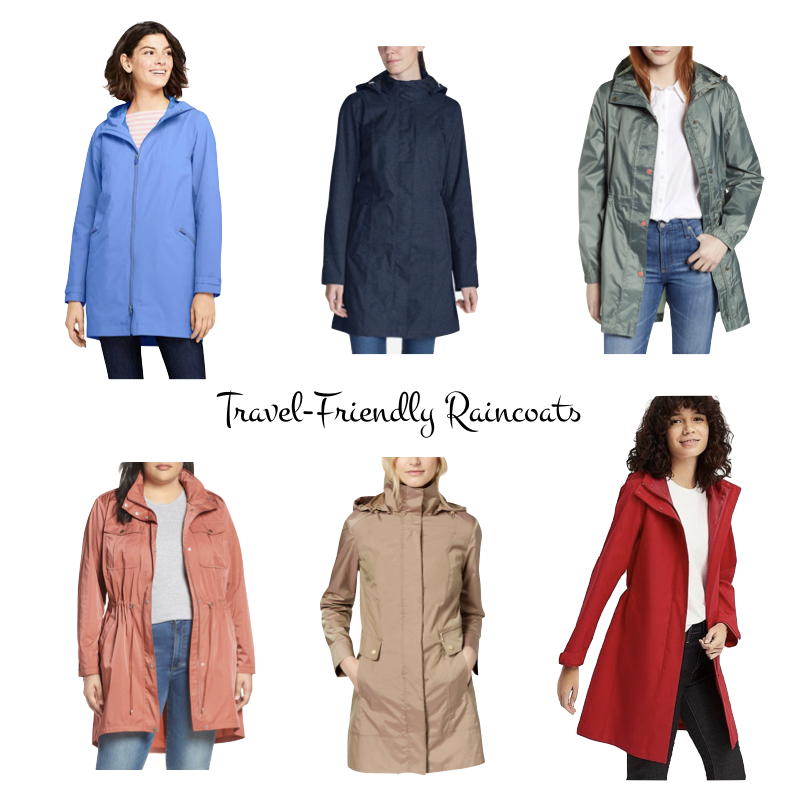 I love to travel in the Spring, even though it can be a wet season for many destinations. While it's always a good idea to pack a travel umbrella, you may want to consider including some lightweight water-resistant outerwear.
My packing suggestion is to leave heavy outerwear at home, and use layers for warmth underneath a weatherproof shell. That way, you aren't stuck shlepping around a bulky, heavy coat when the sun comes out or your sightseeing takes you to museums or other indoor venues.
I also find that simple styles without a lot of hardware, volume, or extraneous details (ruffles, flaps, ties) and in solid fabrics are most versatile and work best for travel. Bonus points for a removable hood (or one that folds away into the collar) and a double zip closure (so you can unzip from the bottom).
Travel Raincoats: Neutrals
Here are a few selections that will rise to the level of Smart Casual and should be easy to pack:
Many of you have recommended this Girl-On-The-Go trench. It's available in several neutral shades, and in Regular, Petite, Plus, and Tall size ranges.
This packable raincoat has a nice streamlined shape, and comes with a pouch for packing. I like this "Champagne" color, but there are other colors as well. Offered up to size XXL. (Plus size in Black.)
Olive is always a nice choice, as it can function as either a neutral or color, and plays well with so many other colors. Misses / Plus
You may remember Mycra Pac raincoats. While a bit spendy, they are truly lightweight and the reversible design adds to their versatility. Sadly, they no longer seem to be as widely available. The company was purchased in 2017, and the new owners have either not continued to manufacture them, or have reduced distribution.
…And Colors
This year I plan to replace my travel raincoat, and see this as an opportunity to add some color to my travel wardrobe.
I've posted this rain jacket before because it's just so darn cute in person. It's now offered in lots more colors, up to size 3x in many of them, and is also in Petite and Tall sizes.
If you don't shy away from a bright color, this pretty "Chicory blue" jacket has some nice features like a double zip fastening and pockets that zip closed. Offered in Regular and Petite sizes, as well as Plus.
This style is budget-friendly, and the color "Laurel" looks like it could be easy to wear and coordinate. Other colors available too, as well as a polka dot version. Offered up to size 16.
This plus-size hooded raincoat is offered in four colors, including "Daiquiri" shown above.
A pretty lavender color and drawstring waist elevate the look of this waterproof parka. And here's a longer Mackintosh style, also available in the Lavender color.
This coat, which blocks both wind and rain, gets great reviews. The red is fun and classic, but there are softer colors and neutrals too.
Finally, another packable style with an adjustable waist that ties in back. This barely-there pale pink color would also work as a neutral, and be compatible with just about any other color in your travel wardrobe. In sizes XS to XL.
What outerwear do you usually travel with?
Affiliate links in posts may generate commissions for unefemme.net. See my complete disclosure policy here.