A Visit To The Hermèsmatic
Last weekend we were at the Century City mall, and stumbled across the Hermès pop-up shop, Hermèsmatic. They are offering free over-dyeing of Hermès scarves, to refresh and give them a more modern look. (If you're in the West Los Angeles area, they're open through this Sunday, November 19.)
A few years back, I was really into Hermès silk scarves. I considered them wearable art. I'd collected a few, often seeking out favorite vintage patterns and colorways from consignment sites. But as styles became more casual and my own style shifted, they began to feel a bit….overdone. Stiff and a little stodgy.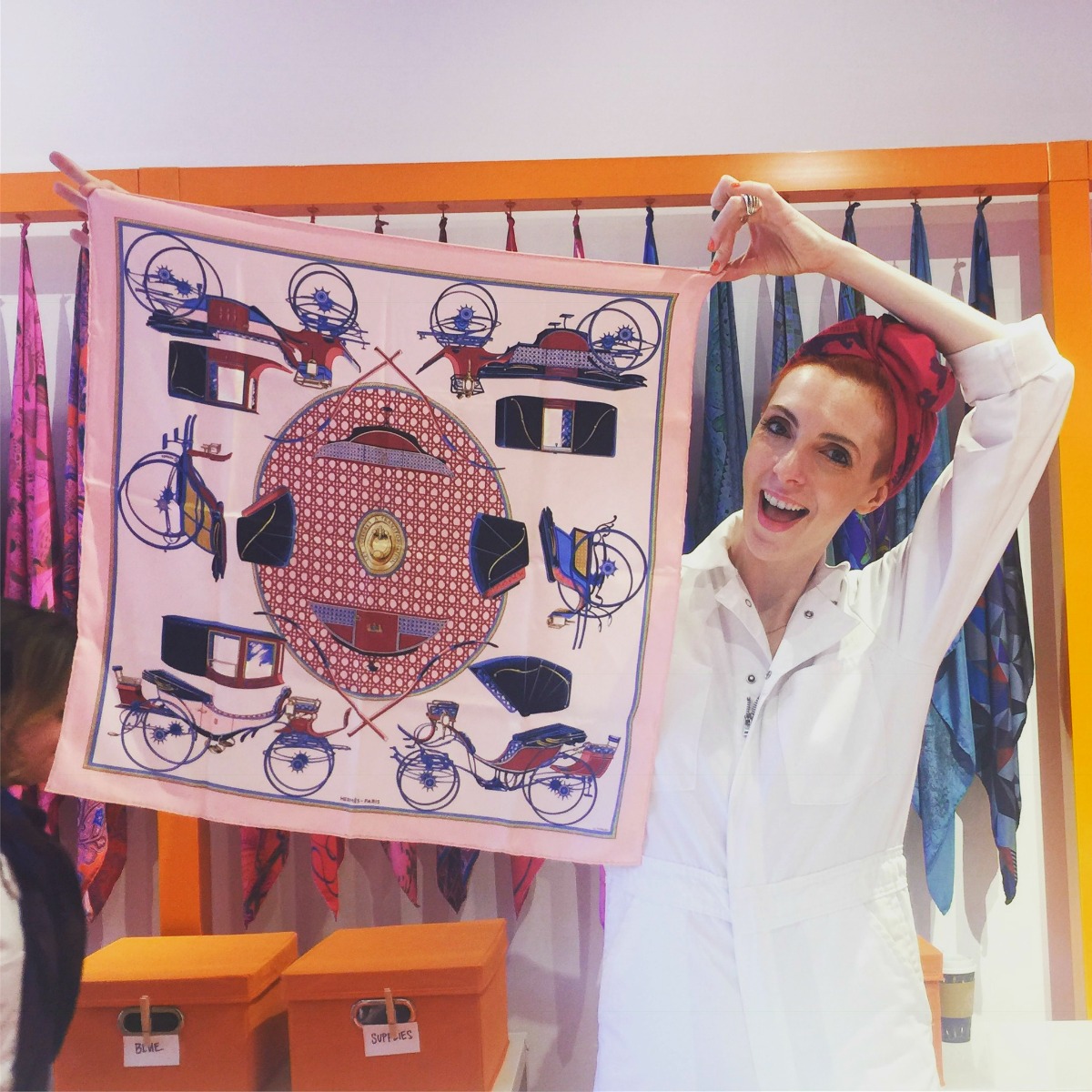 Over time, I sold all but a few of my Hermès scarves. One that I kept was this smaller silk square. It had been one of my first purchases. But when I changed my hair color a few years ago, the contrast level felt too strong for me, so I thought it would be a good candidate for over-dyeing. The nice sales associate holding up my scarf above suggested that we go with a pink over-dye (pink, purple, or blue were the options available).
And here's the result! It's still a bright pop of color, but with the over-dyeing it's not quite so harsh. (And I love how it looks with this burgundy sweater!)
And if you don't already have a scarf that you want over-dyed, they have quite a few for sale. Some of them vintage designs.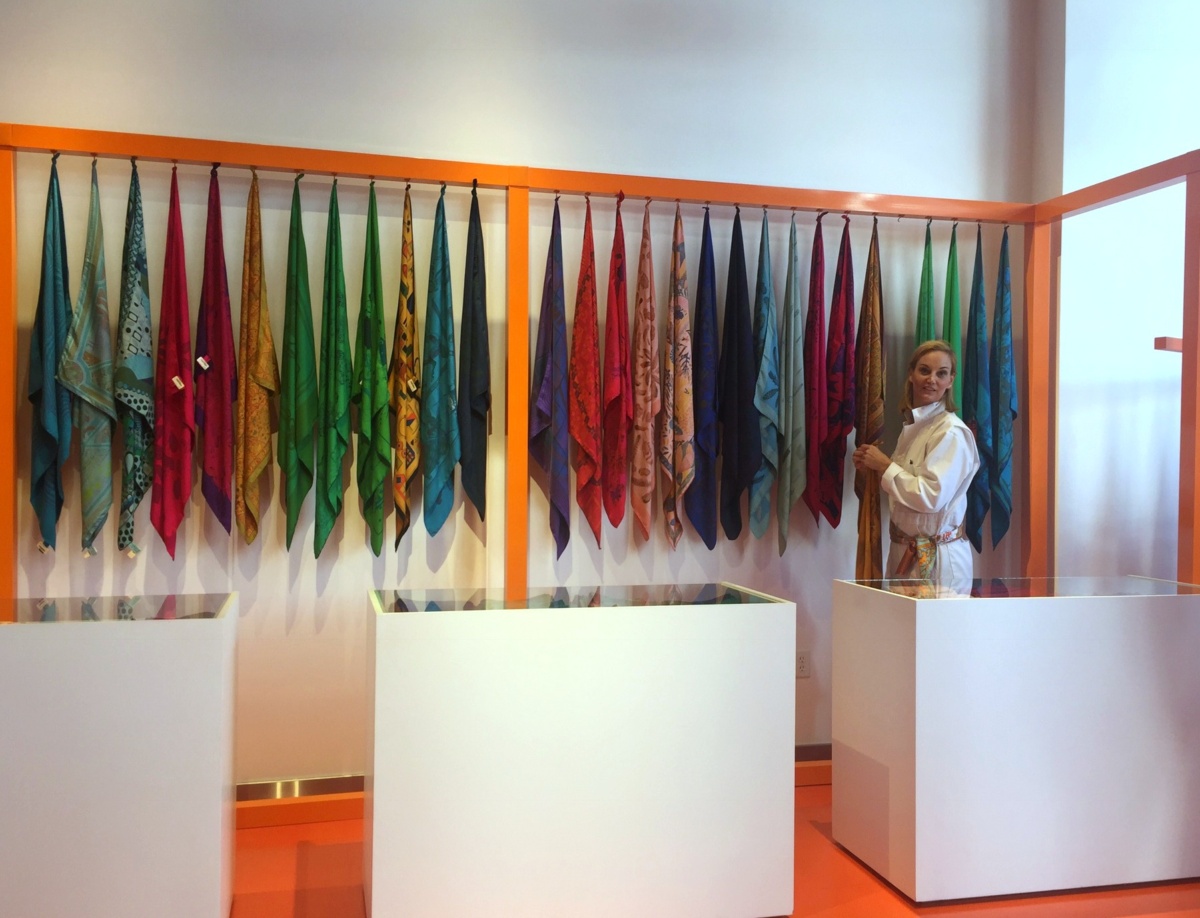 I asked the sales associate about the over-dye process and after years of being told to baby my silk carrés, I was a little bit shocked to learn that they throw them into a washing machine with the dye and then…into a dryer!! (Low heat.) She said this is what softens the silk fabric and gives it a more velvety feel.* I had one scarf that I didn't want over-dyed because I love the artwork on it so much, but also hadn't worn it because the twill fabric was too stiff. So when I got home, I crossed my fingers, put it through the washer in a lingerie bag (cold water, delicate cycle) and then into the dryer. It came through like a champ, the colors intact but the fabric now nice and soft. I will say, do this at your own risk, but I was delighted with my results.
*She was also very clear that this was not the official care recommendation from Hermès.
I'll be working on an updated scarf tutorial for silk squares now that I'm starting to wear mine again.
Affordable Silk Scarves
Yes, Hermés scarves are pricey, and I've had a few requests for some silk scarf alternatives at lower price points. My first suggestion is to hit your local thrift stores. While you may not find an Hermès treasure, quality silk scarves in good condition often go unappreciated and you can find some real gems.
Online, I've seen a lot of nice options lately.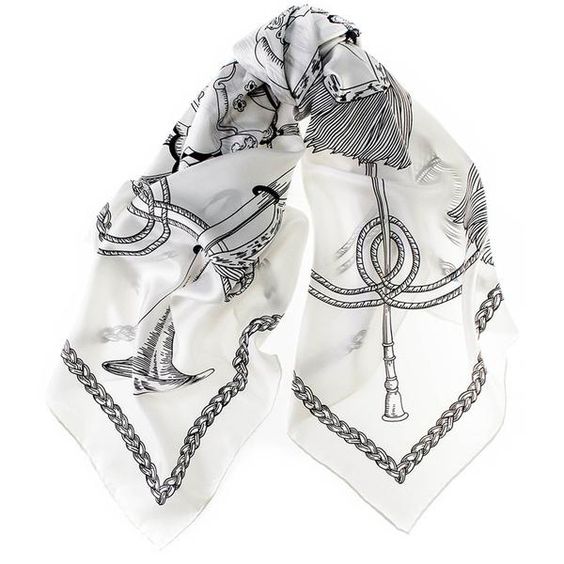 A modern black and white colorway balances a classic pattern on this Suzu Japanese silk square.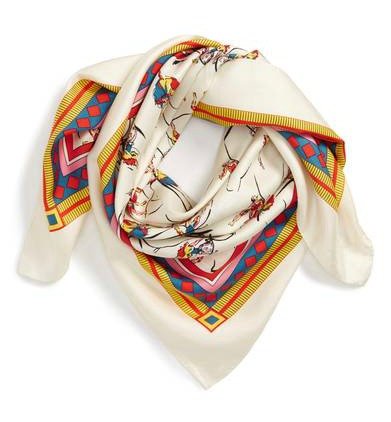 Lively colors and a fun pattern with dancers make this an enticing choice.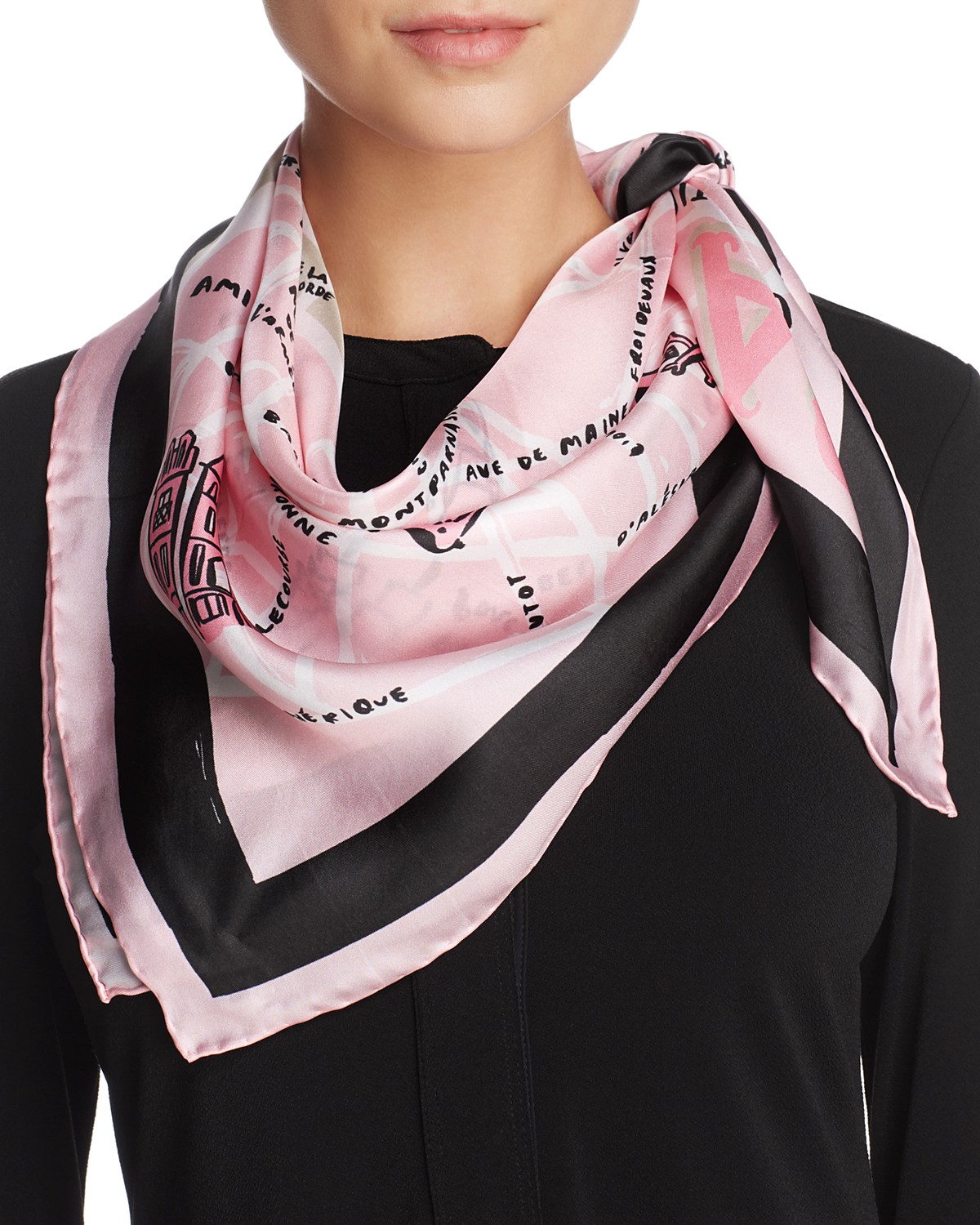 I'm a pushover for anything with a Paris theme, and this scarf is such a nice wearable shade of pink.
Do you wear silk carrés? Do you have a favorite style or size?
Under $100
Affiliate links in posts may generate commissions for unefemme.net. See my complete disclosure policy here.