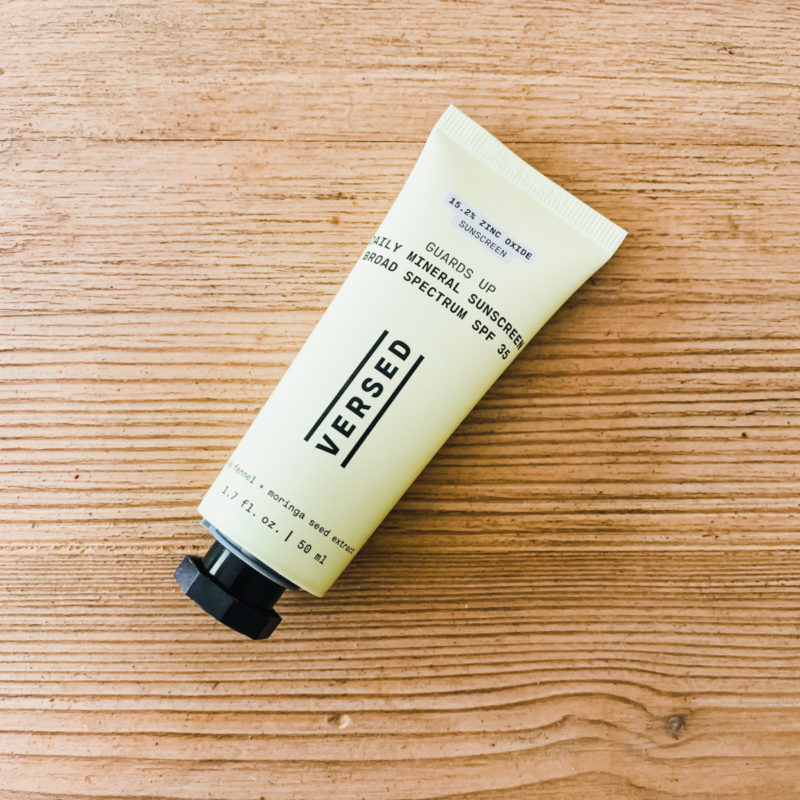 Let's get SPF'd up!
If there's one beauty product I use daily and without fail, it's sunscreen. 🧴 Skin cancer runs in my family, but I'll admit to vanity being a big motivator too. Sun damage can increase fine lines and reduce elasticity, as well as making skin look uneven and duller.
My dermatologist has always recommended mineral over chemical sunscreens, and I think my skin agrees. In the past, I've found some chemical sunscreens mildly irritating. (And we now know that many popular ingredients in chemical sunscreens can be very harmful to the environment and marine life.)
After Supergoop! discontinued my favorite mineral formula a couple of years ago, I've been on the hunt for something comparable. I've been using the Elta MD and have been OK with it, though I've found that if my skin or the air is dry, it can get a little flaky and pill.
My New "SPF HG," Versed Mineral Sunscreen
I've been seeing rave reviews about this new sunscreen from Versed, "Guards Up," and decided to give it a try. It's a broad-spectrum, non-nano mineral formula with anti-oxidants, and a non-ashy finish.
Shipping took a while due to COVID-19, but I received it earlier this week and have been using since. Two thumbs up!! It's moisturizing, non-flaky, and makeup goes on over it like a dream! (Just wait a few minutes after application.) It has NO parabens, sulfates, or silicones, and is vegan and cruelty-free. And it's made in the USA.
(For the rest of the body, I like Badger mineral sunscreen. I used this one the last time we visited Mexico, and found it very effective.)
This post isn't sponsored, just something I really love and wanted to share!
Have you tried Versed Mineral Sunscreen? Or do you have a favorite you're happy with?
Bon weekend!
Affiliate links in posts may generate commissions for unefemme.net. See my complete disclosure policy here.