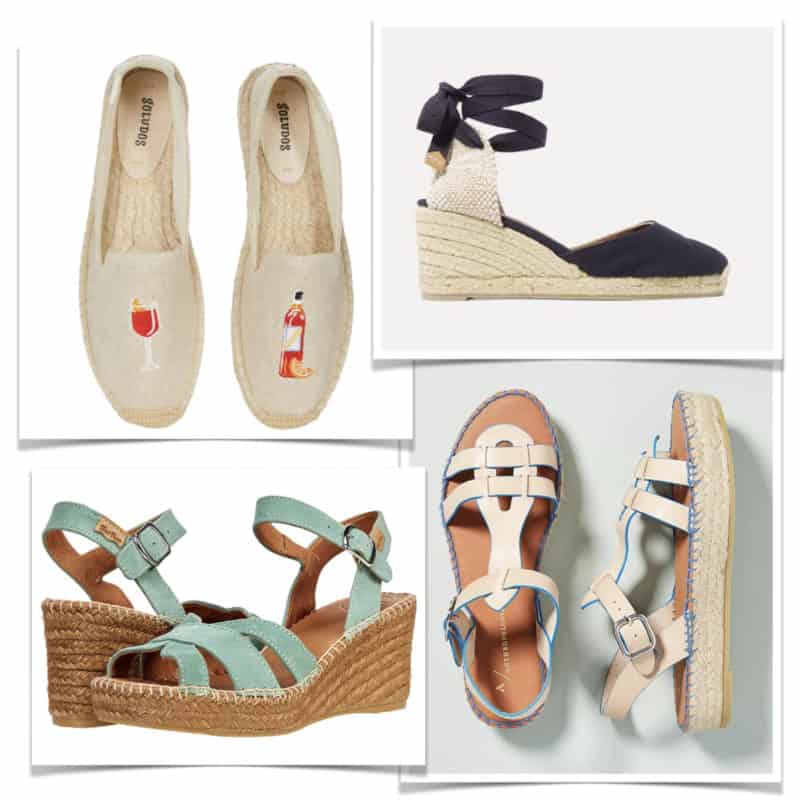 We're having a round of "May Gray" here in West L.A. It's cloudy and chilly with a sneaky bit of drizzle here and there. I'm looking forward to warmer days and busting out the sandals again. So to summon a sunny frame of mind, may I present some summer for your feet…
Espadrilles, in their various iterations, have become an iconic footwear style. Whether sandals or closed toe versions, they always look summery to me.🌞 (I'm using the term "espadrille" broadly here, as any shoe with jute soles or jute detailing on the outside of the sole.)
Women's espadrilles (sandals and closed-toe styles)
Most of these styles are available in additional colors than shown.
Espadrilles originated in Spain, and Castañer is a well-known Spanish brand. (In the late 60's, they put themselves on the map by designing espadrilles for Yves Saint Laurent.) Here's a classic ankle tie wedge style in Navy.
If the ankle strap isn't your thing, or you'd prefer a lower heel, these slingback wedges are a versatile option.
Of all the sandals in my wardrobe, these soft metallic espadrille sandals are the ones I reach for most often to "finish" an outfit. They're comfortable, classic, have just enough of a wedge heel, and look good with everything. Metallics are neutrals with "pop." I've had this pair for a couple of years, and plan to keep them as long as I can.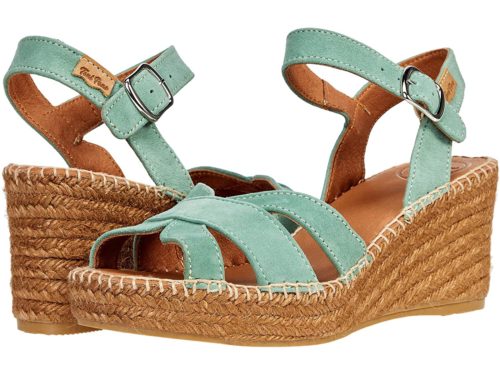 This aqua-green pair would look smashing with white denim, but would "play well" with a lot of other colors too…
And red is surprisingly versatile.
These budget-friendly sandals are available in several colors, and have an elastasized ankle strap for easy on-off.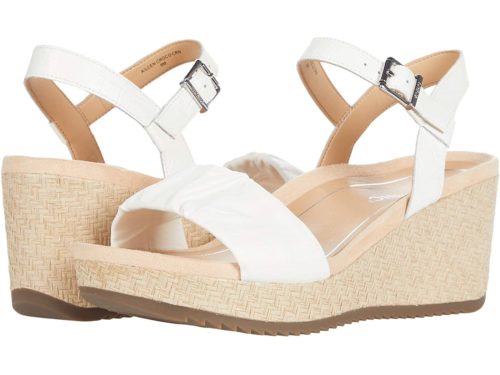 I think white or off-white sandals make an outfit look fresh and crisp. These have good arch support and are available in Wide width.
For those of you who with narrow feet, here's a fun slip-on style in a metallic star print, offered in AA to EE widths!
I'm kind of smitten with these fisherman style espadrilles. I just love that blue contrast edging and stitching!
Love love love the Aperol Spritz design on these (budget-friendly) espadrille smoking slippers!
These are available in a few colors, but this saffron yellow is my favorite! 💛
These flats could be a nice option for those who prefer a closed-toe, but still want an open feel (and air circulation).
If you're open to a slide sandal, these have a very "bought them on a beach in Greece" vibe…
More women's espadrille styles:

Mark your calendars…
I'll be doing TWO Instagram lives over the next few days…and I'm very excited about both!!
Today at 2pm ET/ 11am PT the "Over 50 Style Lounge" will convene to talk about HAIR. Hair styles, hair color (or not), dealing with thinning hair, etc. Come see what Jennifer, Deborah, Tania and I have to share…just follow me on Instagram to watch.
And Sunday at 1pm ET / 10am PT, I'll be joined by Annie Castaño and Ivana Nohel (the duo behind Castanohel scarves). We're going to be talking about Style Personalities (Classic, Gamine, Natural, Romantic, etc.) color, scarves, and more. This should be really informative and fun, so hope you can join us!
If you can't make it, I'll be saving both to my IGTV feed, and will make available here next week. (I'm still trying to figure out how to make these available to those who don't have an Instagram account, so bear with me.)
Affiliate links in posts may generate commissions for unefemme.net. See my complete disclosure policy here.