A simple, casual weekend capsule in a summer palette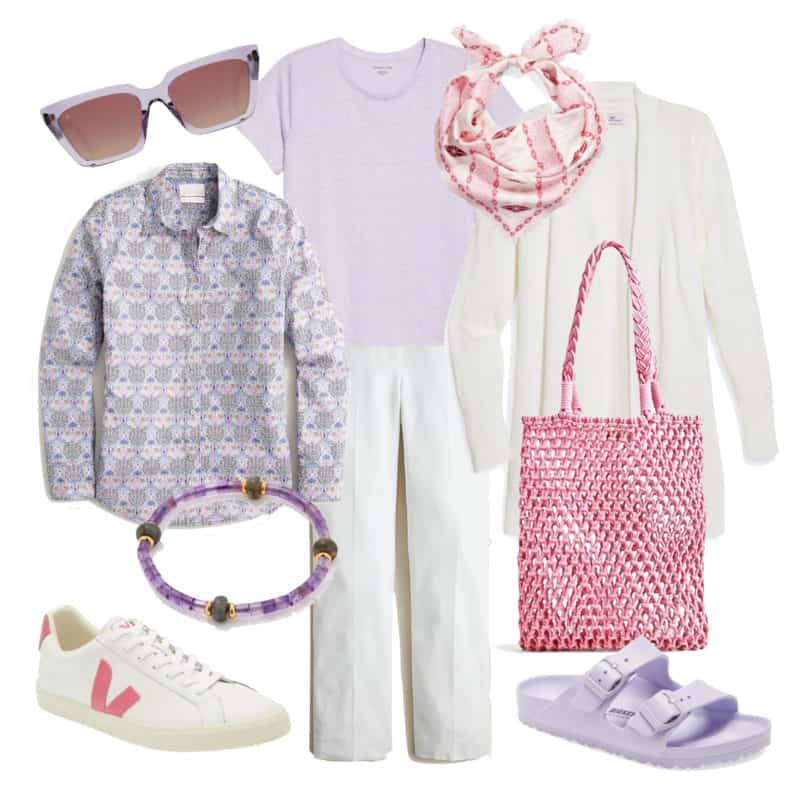 I love the concept of a capsule wardrobe, even (or especially) for a casual lifestyle. It's a great tool to help simplify outfit planning, or packing for travel. The beauty of a capsule is that it's cohesive: all of the pieces work together and can be worn in multiple combinations.
A casual capsule wardrobe for a summer palette
Above, I've created a casual weekend capsule in a (cool, soft) summer palette. (Yes, I'll be doing more of these in different seasonal palettes in coming weeks and months.)
When your lifestyle and wardrobe are casual, it can be easy to fall into a rut of wearing the same thing or combination of pieces day after day. I'm finding that creating small weekly capsules helps me to feel more put-together, and to wear more of what's in my closet. (I'll be sharing some of my weekly capsules soon.)
Creating wardrobe capsules is relatively easy when you're sticking with neutrals. But incorporating more color can be challenging. One of the best benefits of my color analysis is that it has helped me to add more color to my wardrobe while keeping it cohesive. When I stick to my color palette, everything coordinates, and it's easier to create capsules or re-mix pieces for outfit variety.
But rebuilding a wardrobe, either for color or lifestyle changes takes time. Not every color or style will be available in every retail season. I've learned to shop opportunistically. When something shows up in a color AND style that works for me, I nab it, even if it's out of season and I won't be able to wear it right away.
Do you utilize wardrobe capsules for outfit planning or packing?
More summer palette picks

Stay in touch
Sign up to be notified of new posts and updates from une femme d'un certain âge.