Casual weekend capsule wardrobe in a winter palette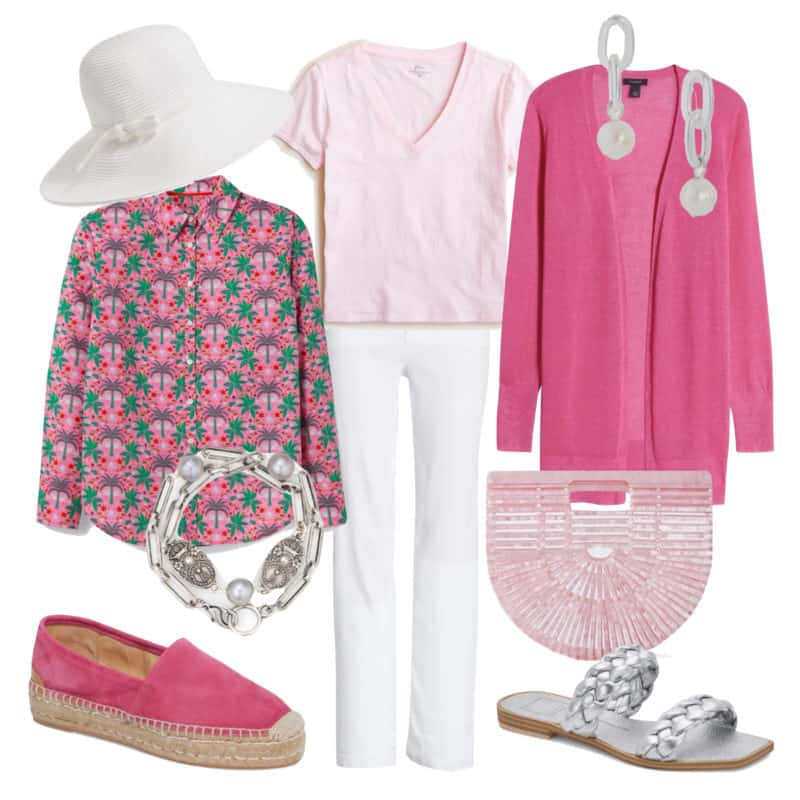 Whether you have an upcoming weekend getaway, or just an active social schedule, a capsule wardrobe can help take some of the guesswork out of casual outfit planning.
Casual capsule wardrobe idea in Winter colors
Here's a warm weather mini-capsule for you Winters.
For this capsule, I chose white and pinks (shocking pink, magenta, ice pink) with silver accents. For Winters, an ice pink tee can be a fun alternative to white, and still work as a neutral.
Winter colors are cool, clear, bright, and highly contrasted. Not every color in your palette will be available every season, so grab your favorites when they are available. The Winter palette colors I'm mostly currently seeing available are shocking pink and magenta, royal and electric blue, and some emerald and holly green.
If you are a Winter, you'll want to avoid softer, greyed out colors, even if they are cool. They will make you look washed out. If you're color-averse, try a monochromatic (black and white) look. You can always add a pop of color with a bag, shoes, or scarf.
Here are more current seasons pieces in the Winter palette. (Colors may look different online than in person; I've selected pieces based on how the colors appear on my monitor.)
Winter color palette picks

Thanks for reading! If you enjoy une femme d'un certain âge, please support me by sharing on Facebook, Pinterest, or other social media, and subscribe HERE to receive email notifications of new posts, and exclusive content. Thank you!
Stay in touch
Sign up to be notified of new posts and updates from une femme d'un certain âge.