Holiday party outfit: a simple look for hosting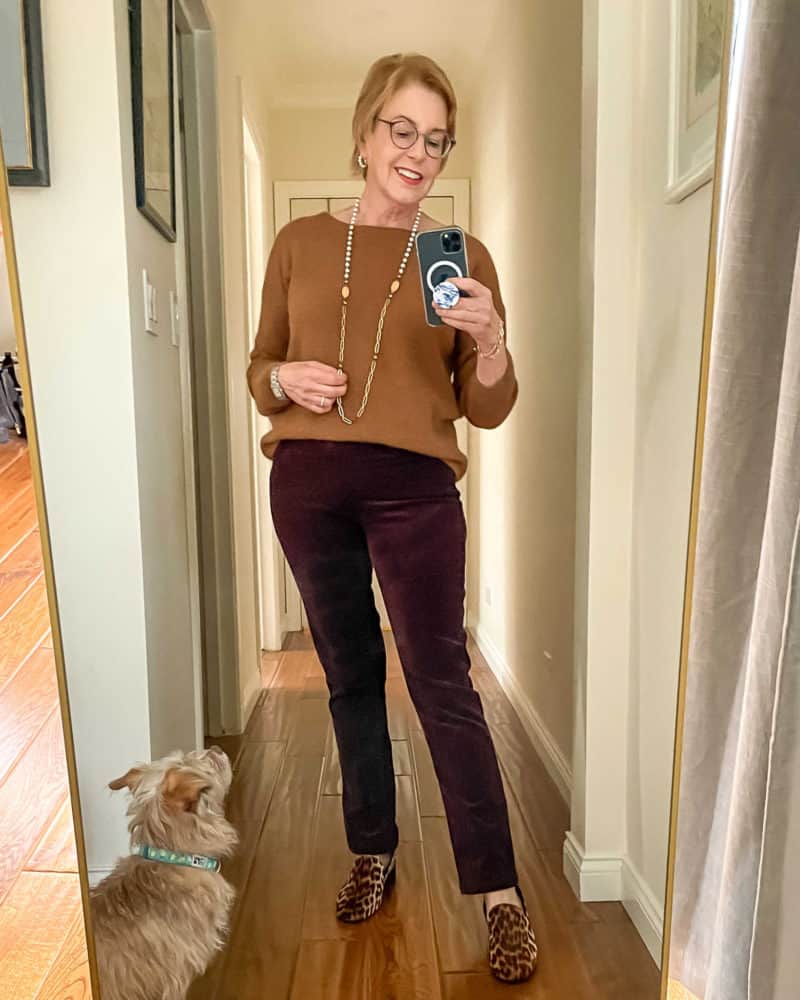 Tomorrow night we'll be hosting a casual Hanukkah get-together for extended family. What to wear when you're the holiday hostess? I have a few suggestions…
The sweater is one of the two I jettisoned at the last minute from my Italy travel wardrobe. It's a light mohair/alpcaca/cotton blend. I'm wearing it with the buttons in the back. Pants shown previously HERE. I've had these loafers for a couple of years, here's a similar style.
Festive, not fussy
Even though our family gatherings are a joint effort, there's still a lot of coordinating, planning, cooking and setup involved. So I like to opt for a simple outfit that I can throw on right before everyone arrives.
"Festive" doesn't have to mean lots of bright color, frou-frou, sequins or bling. (Though it certainly CAN…that's up to you.) Texture, pattern, and accessories can add a festive note to a simple look.
Comfort & functionality
Even if I'm preparing dishes ahead of time, I still need to re-heat, set up the serving area, help with drinks, etc. once guests arrive. And then clean up. I need comfortable clothes that won't restrict movement.
I avoid any fabrics that are stiff or bulky
No layers (except for the after-dinner walk to look at the holiday lights)
A wider neckline and sleeves I can push up help me stay cool
No wide sleeves or other "flappy" pieces that can get caught or drag through food
Nothing that has to constantly be adjusted
Everything washable
Makeup: add a little shimmer and/or a bright lip! 💄
And remember, an apron is your best friend! 😉

✨Don't forget…✨
This Sunday at 12pm PT / 3pm ET I'll be doing a live Zoom with Brian of Brian + MW. Brian will be demonstrating how to "dial up the glam" 💄 for those festive holiday events. It's free, and you can click HERE to pre-register! Hope to see you there!
Stay in touch
Sign up to be notified of new posts and updates from une femme d'un certain âge.