I'm thrilled to see more tees with slim, elbow-length sleeves showing up in this season's collections. I find this style of tee not only more flattering, but more refined and easy to layer.
Elbow-Sleeve Tees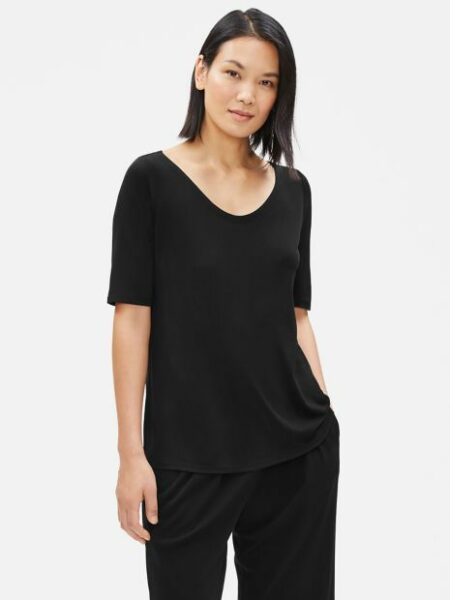 I've been a big fan of Eileen Fisher silk jersey for many years. Yes, it's pricey, but it holds up well, has an elegant appearance, dresses up or down, and is fantastic for travel. For the last few seasons, the EF silk jersey pieces have been mostly limited to tanks and sleeveless tops. So I was really happy to spot this tee with elbow-length sleeves in the current collection. It's a keeper! The cut and neckline are flattering and the fabric is light but not sheer. (It looks better in person than in the image above, just for the record.) I'd love to see this style offered in more colors (and more size ranges). Runs true-to-size.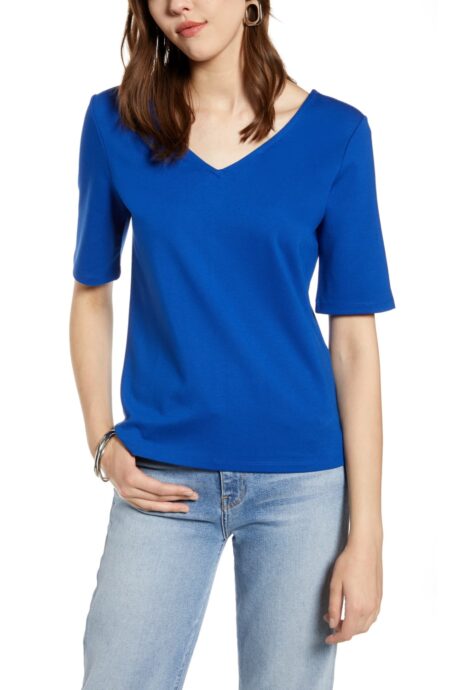 This knit top in a pretty cobalt blue is budget-friendly and offered in both Misses and Plus sizes. It's a nice casual-but-dressier-than-a-standard-tee-shirt option. A cutout in the back adds an interesting detail.
For warmer days, here's a subtly-striped linen tee.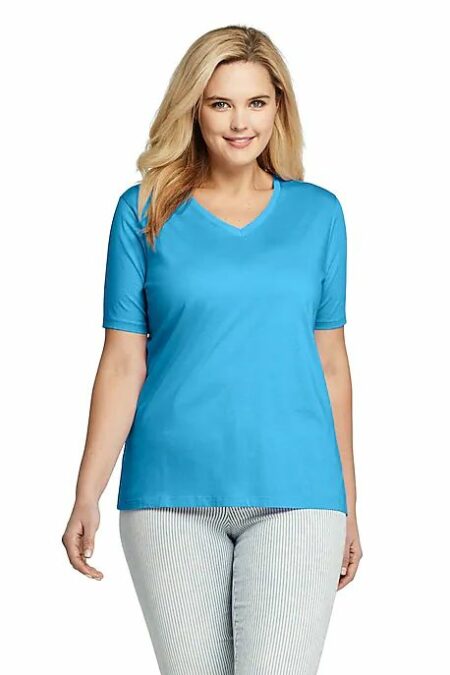 This cotton v-neck tee in Plus is also budget-friendly, and offered in several colors.
This navy tee has serious Wardrobe Workhorse potential. It's offered in Misses, Petites, Plus, and Plus Petite sizes.
More elbow-sleeve tees…

Speaking Of Elbows…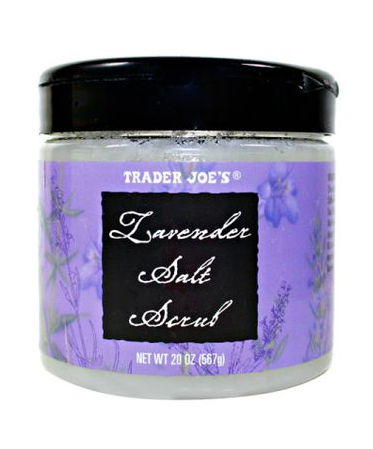 I don't know about you, but my knees and elbows tend to get a little rough. I've been looking for a body scrub with moisturizing oil that isn't too pricey, and love this one! You can pick up at your local Trader Joe's, or order here.
Pour Les Hommes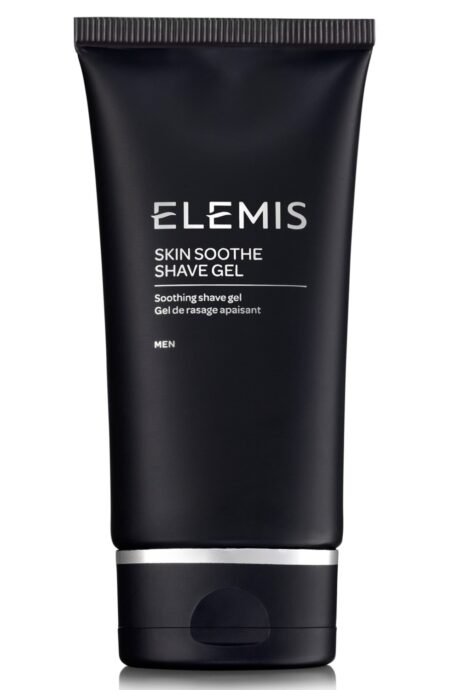 When le Monsieur and I first began living together, I was horrified to learn that he used bar soap (Irish Spring!) to shave. I finally convinced him to try a proper shave gel after he began complaining of dry, irritated skin. Once he did, he never looked back. He's tried a few over the years, but this is the one he likes best and even re-orders himself. 😉 (If there's someone on your Fathers' Day list who's difficult to buy for, this might be something to consider.)
Other News…
Jeune homme graduated from his school this week. It was a bittersweet moment for us, as he loves the school and it has been nothing short of miraculous for him. It's a specialized school for kids with developmental disabilities and learning disorders, and we saw him make real progress during his years there. The teachers and staff are all exceptional. Unfortunately because he turns 22 in August, he's "aged out" of the school system.
He's on a waiting list for an Adult Day Program, and we're hoping it will just be a matter of weeks. For the next few weeks, he'll be attending a private Summer Day Camp for people with disabilities. Hopefully we can maintain some kind of routine until he's able to get into the regular day program. There are so few of these programs for people at his level, and many have waiting lists years long. We'd started making phone calls and trying to set up appointments to start the process last summer, and even then, it's still a work in progress.
What style of tee do you wear most often?
Bon weekend!
Affiliate links in posts may generate commissions for unefemme.net. See my complete disclosure policy here.