Exploring the "Gabrielle Chanel: Fashion Manifesto" exhibition at the V&A
When I decided to visit London, I knew one of my "must-sees" would be the Gabrielle Chanel: Fashion Manifesto exhibition at the Victoria & Albert museum. It did not disappoint!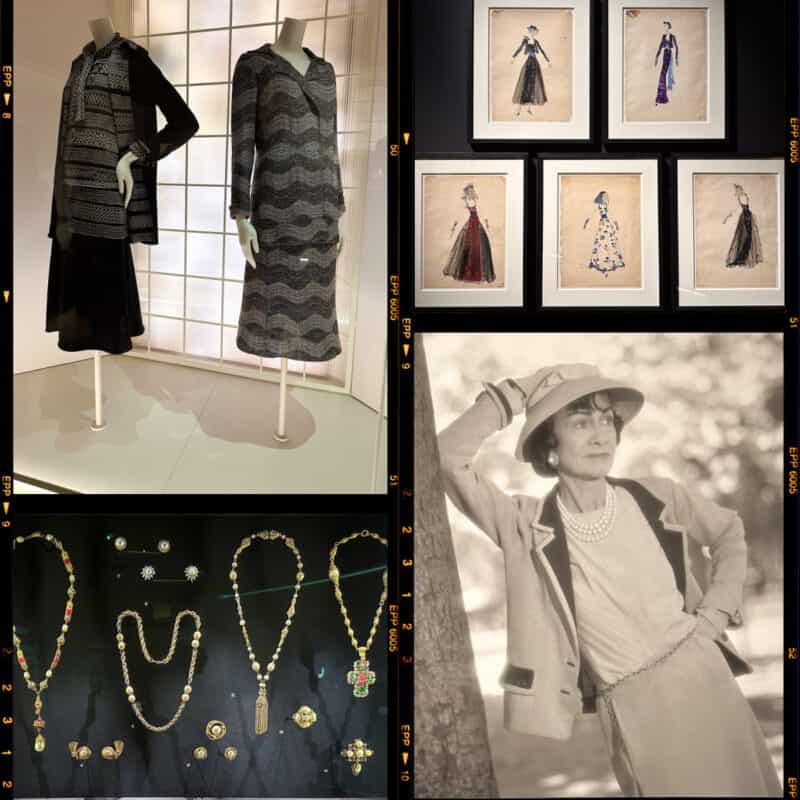 The exhibition is currently sold out, except to V&A members. (Fortunately I was invited to attend by a friend with a membership.) It was well worth the visit, not only for the impressive curation of clothes on display, but also for the history and background of the woman and her designs.
It was quite crowded, even on a weekday afternoon. Even so, I did manage to get dozens of photos, and have shared the ones that I think are most representative of the exhibition. Many of the displays were very dimly lit to preserve the fabrics; I've lightened them somewhat to better show details.
"Gabrielle Chanel: Fashion Manifesto" at the V&A in London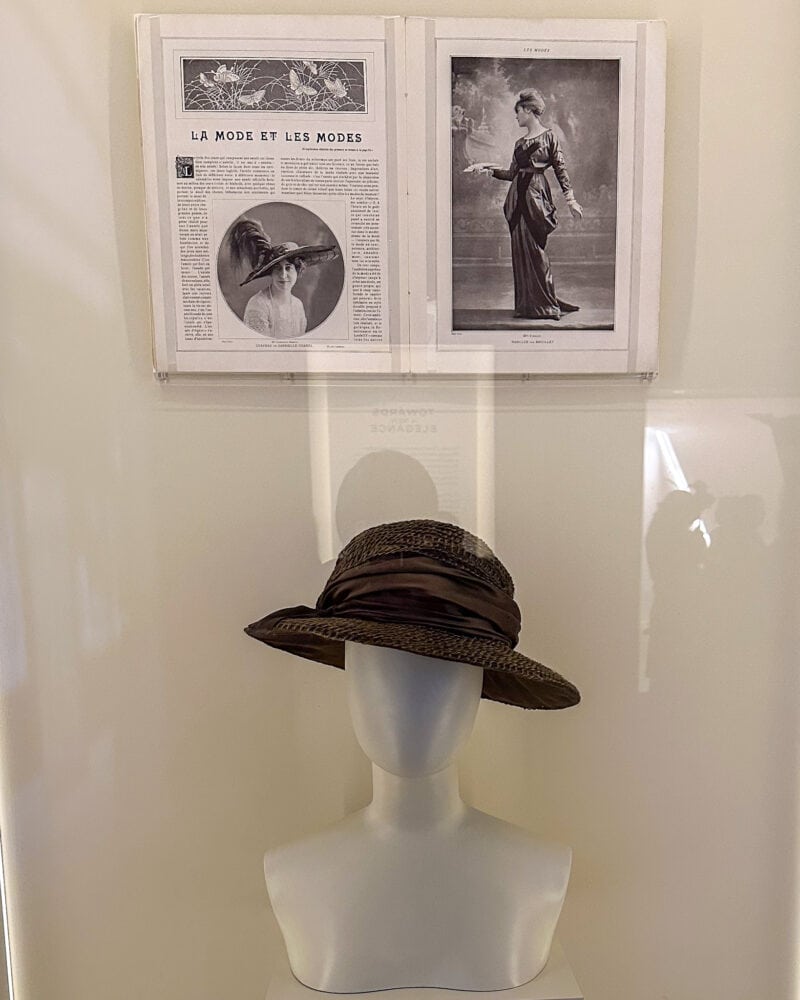 Chanel began as a milliner, and soon moved on to clothing. Inspired by the fabrics and styles (especially menswear) favored by the wealthy in the English countryside, she adapted them to create women's fashions that allowed for more ease and freedom of movement.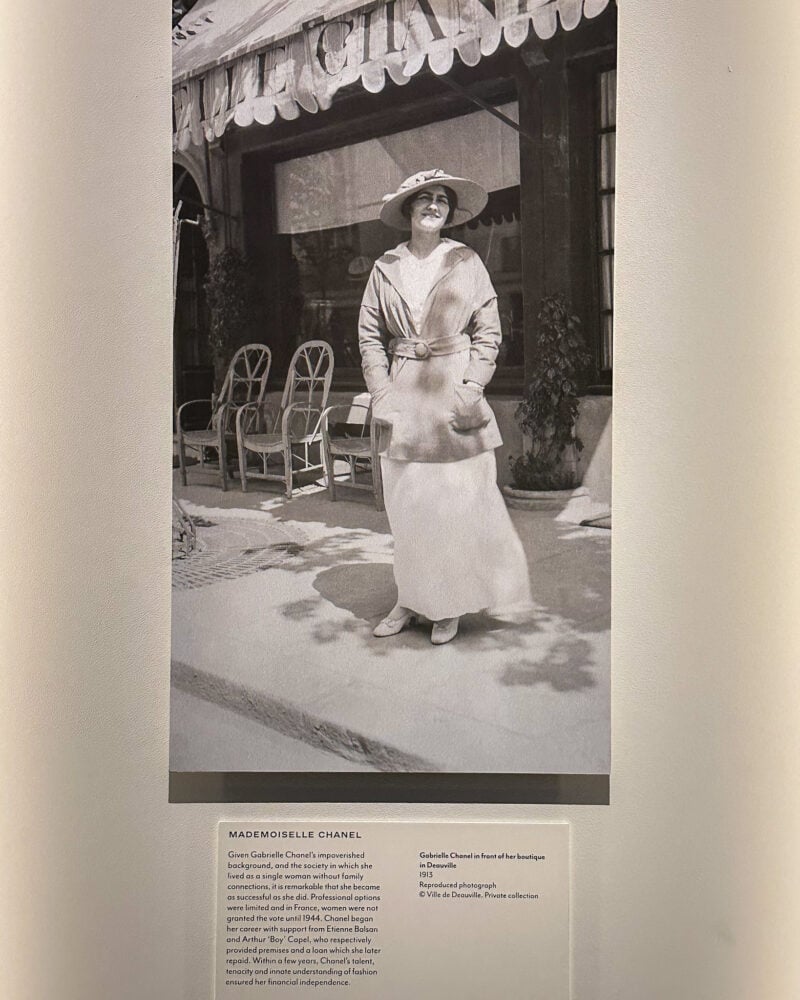 1920's – 1930's
Even her most feminine dresses and gowns exemplified that ease…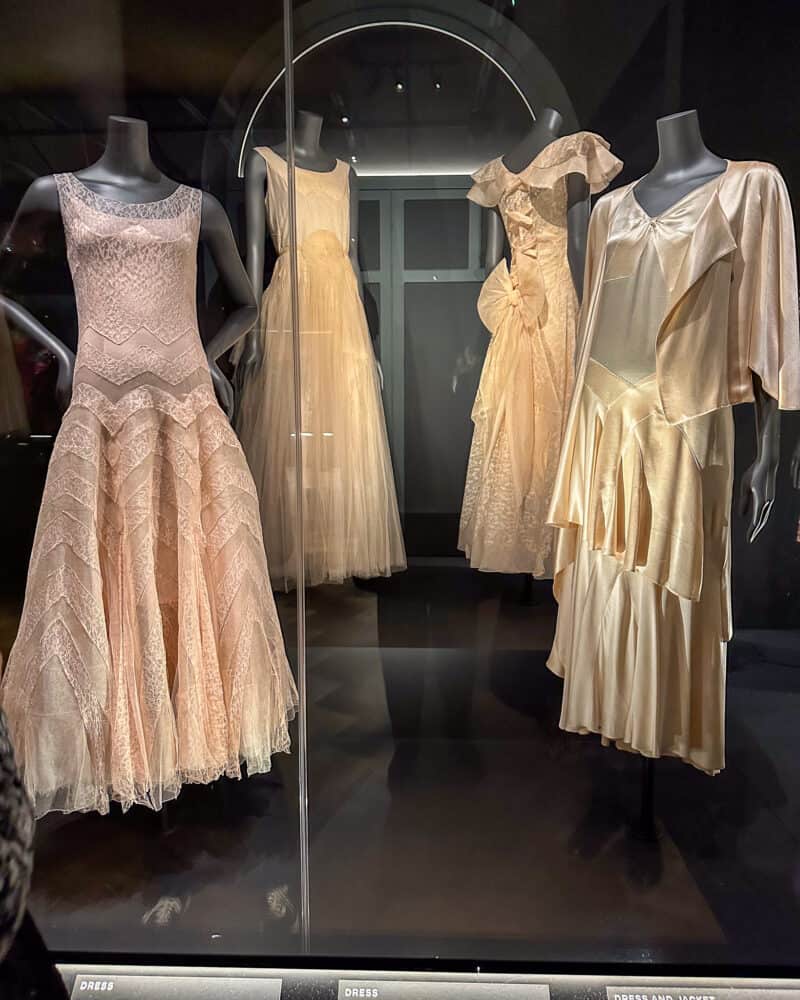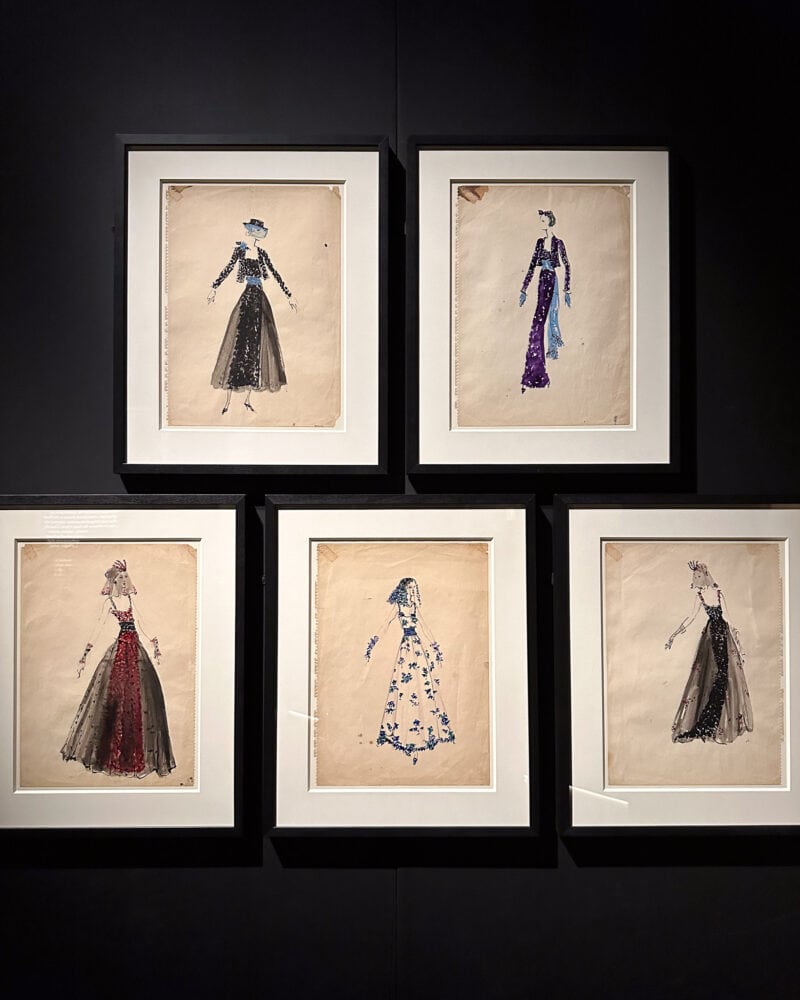 1940's
Yes, she remains a controversial figure, and the exhibition doesn't shy away from that.
They also discuss her contentious relationship with her business partner, Pierre Wertheimer, who funded Chanel's perfume business in 1922. (Chanel at one point attempted–unsuccessfully–to use the Nazi "Aryan" laws to wrest control away from him. The Wertheimer family still owns Chanel.)
1950's – 1970's
After World War II, Chanel moved to Switzerland, returning only in 1954 to revive her business.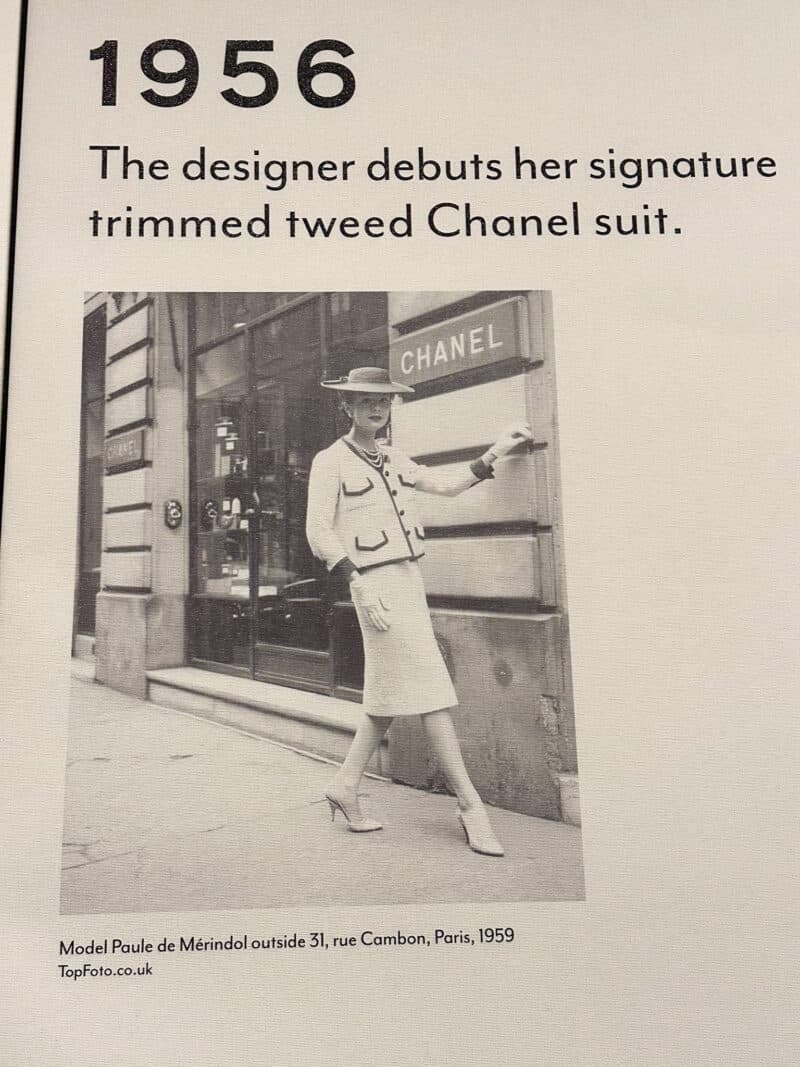 In 1956, she introduced the iconic tweed suit, again designed with the intention of giving women more freedom of movement. (While these suits may seem a bit fussy to us now, remember, at the time the prevailing style was a very corseted look, often with a cinched waist.)
(This one's a little blurry, apologies! But you get the idea…)
There's also a decent display of Chanel jewelry. My friend remarked it was a shame we couldn't see more of it styled with the clothing, as Chanel might have done. I also felt the bags were given short shrift, as I only recall seeing one small case with the classic 2.55 styles.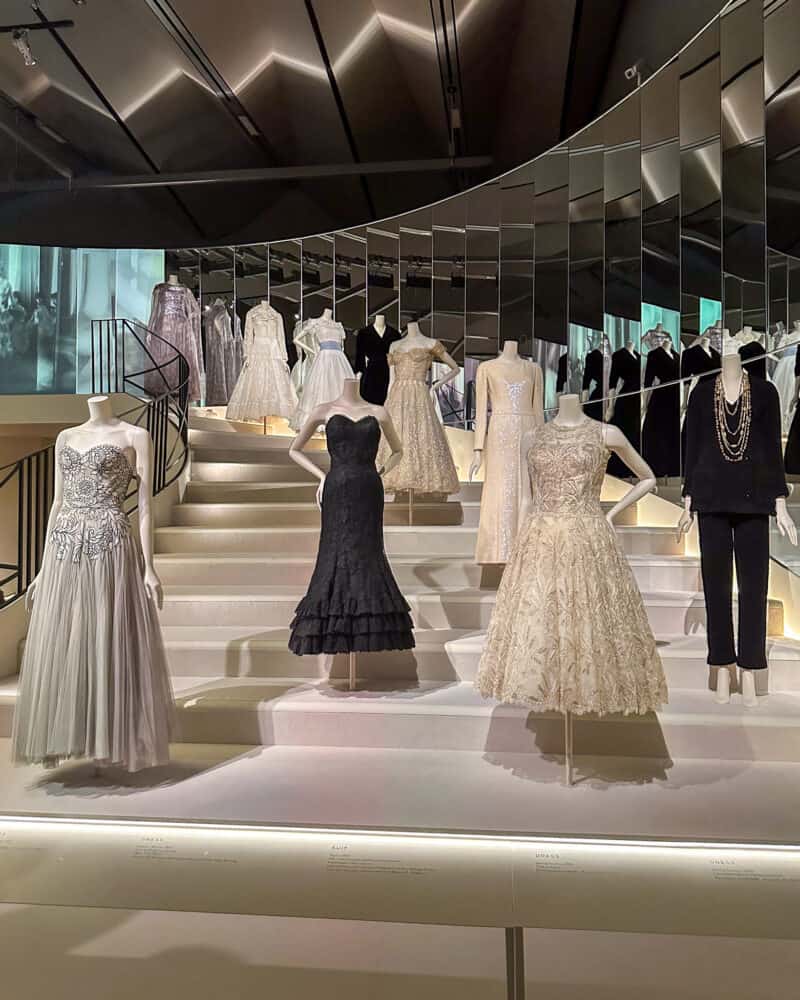 A mock-up of the mirrored staircase in Chanel's atelier.
While Chanel did favor a black-and-white palette, there were some lovely pieces in color….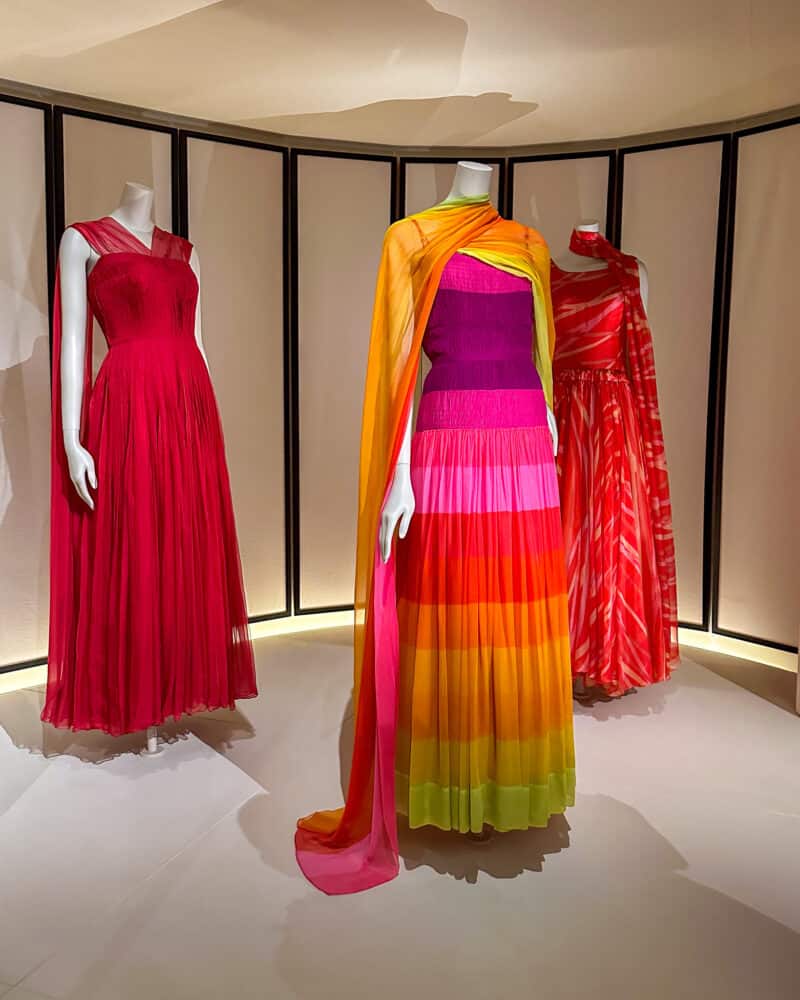 One of the things that really struck us was how modern many of the designs (some almost 100 years old), still look.
The suits on the left are from 1929; on the right a current Chanel display from 2023.
No matter how you feel about the woman or her designs, it's hard to discount the impact she had on women's fashion in the 20th century. What I appreciate most is her philosophy quoted here:
Always dress to make yourself feel young – this means being free and easy and unpretentious in your clothes. You have to breathe and move and sit without being conscious of what you've got on.

Gabrielle Chanel
If you have a chance to see the "Gabrielle Chanel: Fashion Manifesto" exhibition, I do recommend it!
Chanel-inspired styles

Stay in touch
Sign up to be notified of new posts and updates from une femme d'un certain âge.