What I packed, what I wore: a recap of my London travel capsule wardrobe
Today I'm reviewing my travel capsule wardrobe from a recent 2-week trip, and sharing some of my travel outfits from London.
I'm home from London and unpacked, and maybe just a little bit jet-lagged. It was a fabulous trip, and I'll share more soon. But in the meantime, I've always found it helpful to review and recap my travel capsule wardrobe while it's still fresh in my mind. I often refer back to these reviews to help me refine and plan future packing lists.
What I packed for London
Here's the 10-piece capsule wardrobe (not including accessories, outerwear, "underpinnings") that I put together for this trip. For details and why I chose what I did, visit my post "What I'm packing for 2 weeks in London."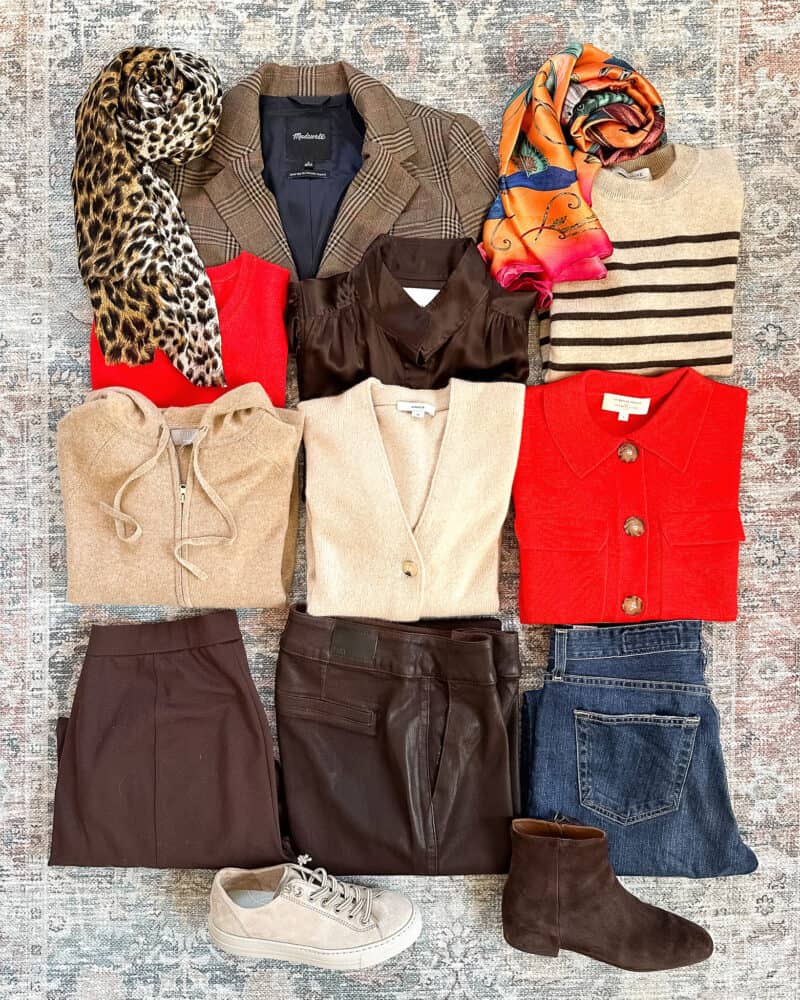 This capsule wardrobe includes what I wore on the plane. The rest could have fit easily into a carry-on sized suitcase, but I used a medium-sized one that I checked, to have extra room because, well, Shopping Happens.
I usually add a Wild Card piece or two at the last minute, but this time only tossed in a couple of additional scarves.
Some budget-friendlier options:

What I wore: travel outfits from London
In the excitement of travel, I often forget to take photos of my travel outfits. As I was on my own for a good bit of the time (no photographer), I tried to take a quick mirror selfie of each day's outfit before heading out the door. Not as exciting as "street style," but at least you can see the various combinations.
Top left is what I wore on the plane in both directions.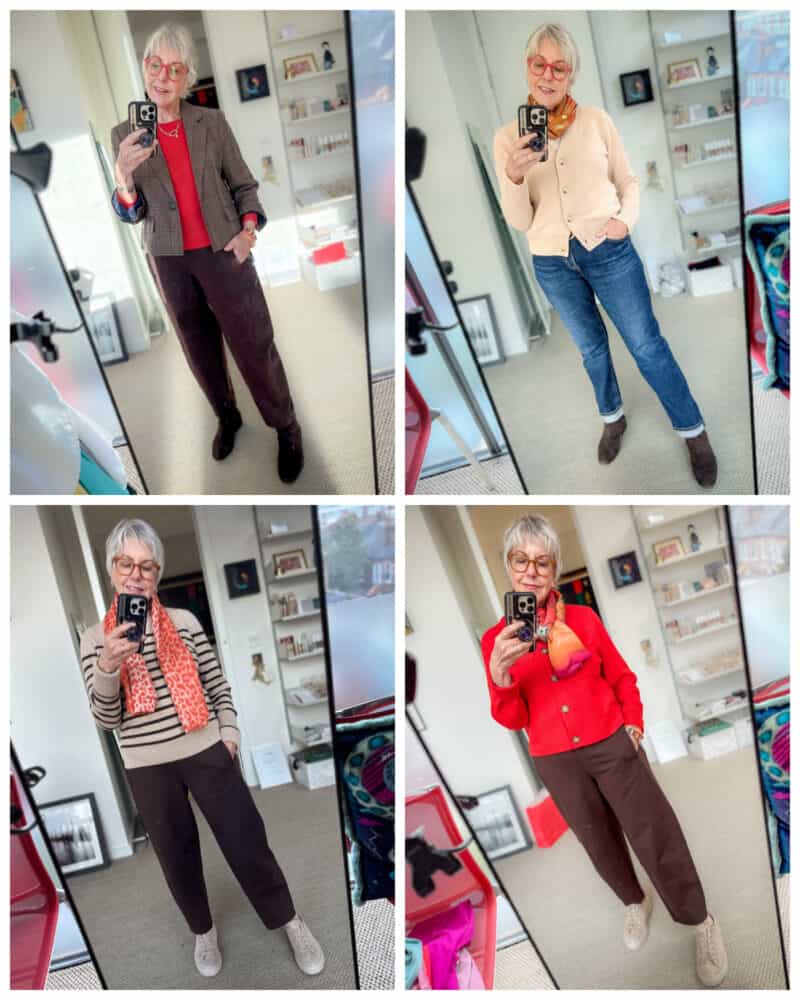 There were a couple of outfits I wore in the evenings and forgot to photograph. And I repeated one or two of outfits, or just switched accessories.
Final score
I was SO pleased with how this travel wardrobe worked out, and felt it was one of my best yet! I always felt comfortable, put-together, and appropriately dressed. Overall, I give this one a 9.5/10. 🎉 Here's the breakdown:
MVP's
Supporting players
Benched
Nothing! I wore everything at least once (though I didn't get a photo with the silk blouse, which I wore for an evening dinner party).
Wish I'd brought…
A different style of jeans, maybe something with a slightly wider leg. I only wore the jeans twice, sticking to one of the pairs of brown pants most days.
I think packing fewer pieces than I normally do actually helped make this travel capsule wardrobe more cohesive and workable!
For more travel outfit ideas and packing tips, be sure to visit my Travel Wardrobe Resource Hub.
Stay in touch
Sign up to be notified of new posts and updates from une femme d'un certain âge.