A practical gift idea: clothing care kit
A clothing care gift basket…
I love practical gifts, but that doesn't mean they can't incorporate a little luxury. Here are a few of my favorite clothing care products that would make a lovely clothing care kit gift, either together or on their own:
1 – The Laundress Wool & Cashmere Shampoo. I've used this shampoo for years now on my cashmere and wool sweaters and love it. All of The Laundress products are cruelty-free and plant-based.
2 – Fabric Fresh Spray. Freshens clothes between launderings.
3 – Small clothing steamer. I bought one of these for travel, but now use it frequently at home. Easier on delicate fabrics than ironing.
4 – Moths can be tenacious, so any steps that can prevent them from taking up residence are worth the effort! During the warmer months, I store my (clean) wool and cashmere sweaters in a cloth storage bag like this one.
5 – Mesh washing bags. These are my laundry Secret Weapon. I use these bags to wash any delicates in the machine, as well as wool and cashmere sweaters, scarves, and cloth masks.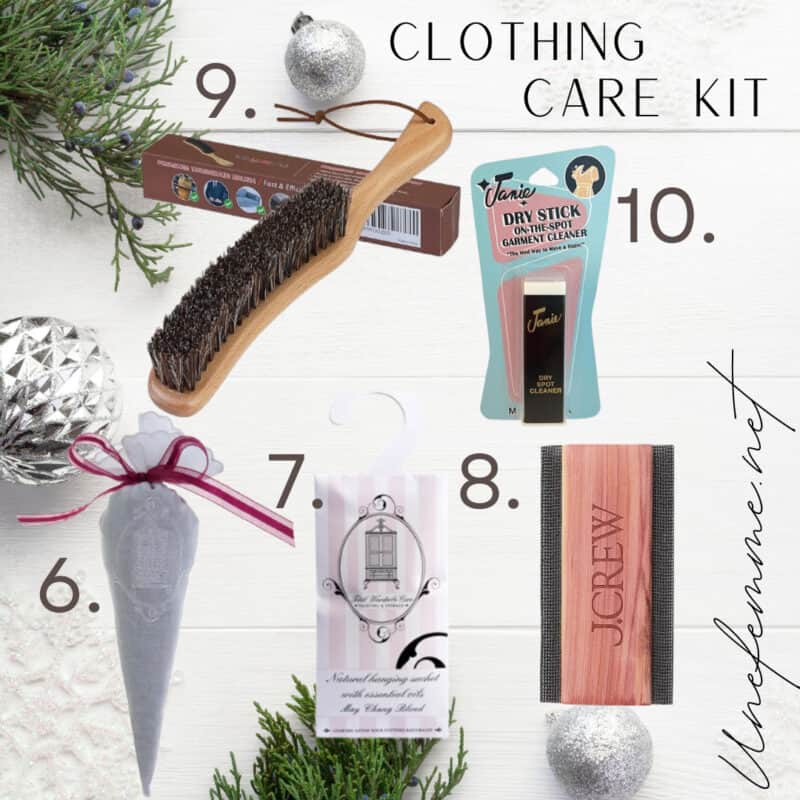 6 – Potpourri cone. I learned from Julia at Total Wardrobe Care that oil and dirt particles can accumulate in the bottom of laundry hampers and be an attractive environment for moths. So I keep one of these in the bottom of our hamper to discourage the little buggers.
7 –Sachets. In addition to deterring moths, these May Chang hanging sachets make our closet smell fabulous! (Julia from Total Wardrobe Care gifted these a while back, and I'm just about to order another set.) I hang these every 20″ or so among my wool, cotton, and linen items.
8 – A sweater comb. This is the one I use to remove any pills, and always pack in my travel toiletries kit.
9 – Clothing brush. Cutting back on laundering or dry cleaning will help clothes last longer. Sometimes all that's needed is a surface cleaning. A clothing brush like this one can remove dust, lint, pet hair and surface dirt.
10 – Janie Stick. Gently and effectively removes grease stains. I never travel without one of these!
More clothing care kit gift ideas:
Wool dryer balls. I switched from disposable fabric softener sheets to wool dryer balls several years ago, and have never looked back. They reduce static and wrinkles, and help clothes dry faster without damaging fibers, your dryer, or the environment.
A cedar moth kit will help keep your clothes for longer and this kit has everything you need. With over 1K purchases last month and great reviews, you won't regret buying it.
Anti-static Freshening Spray. In between washings, spritz sweaters with this to freshen and deter moths.
What would you include in a Clothing Care Kit?
For more gift ideas, check out my "comfort & joy" gift ideas for women.
(This post was published at an earlier date and has since been updated.)
Don't miss out during this busy season…join today to receive all updates and exclusive content for subscribers. Click HERE to join!
Stay in touch
Sign up to be notified of new posts and updates from une femme d'un certain âge.