Thursday miscellany: new 'do & big news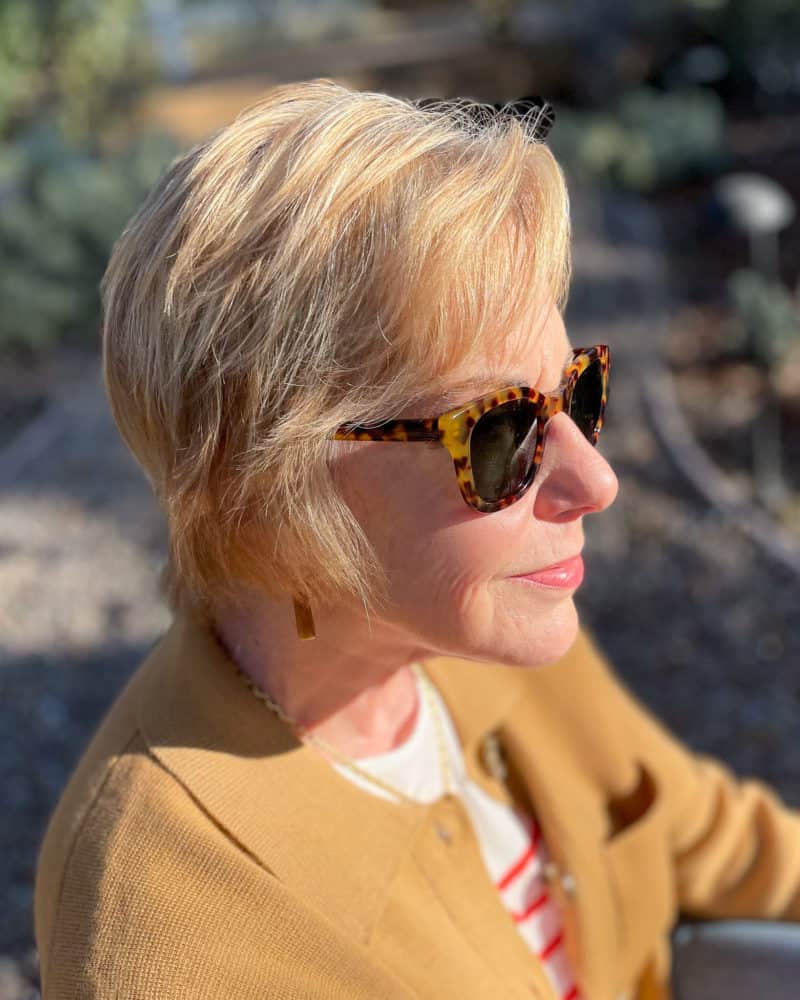 OK, so it's not radically different but I did get a haircut earlier this week and am quite pleased with it! My hair is very fine, and once it gets past a certain length, tends to look lank and flat without product intervention. I'd describe this soft layered haircut as a "short shag" and it's quite easy to deal with. The layers are short enough to give it some lift but without looking severe.
I've decided to keep it about this length for the next few months while I grow out my gray hair. The image above doesn't tell the full story though…
From the other side and the back you can really see the gray coming in. Brian and I have decided not to make any adjustments to the color for now, so I'm going to be a "Grombre" Gal for a while. 😜
I'm wearing an XS in the jacket, and Small in the tee. Jeans also worn HERE. Bracelets previously shown HERE. Sneakers previously worn HERE.
The big news I'm so excited to share…
I've waited until the last minute to share this, as there have been SO many variables at play, but tomorrow I leave for London to be trained in color and style analysis by Red Leopard!!
Above: from my session with Red Leopard in 2019.
Why I'm getting formal training now
My color and style analysis was such an eye-opening experience, and afterward it felt as though so many of the pieces just clicked into place. While it's taken some tweaking and honing to get my style where it feels Just Right, I have a much better understanding of why things work or don't. This has saved me a lot of time and money!
So many of you have asked questions about your own coloring and style. I've wanted to be able to address those questions from a solid base of knowledge. And I'm hoping to launch some personal styling services later this year. (More to come…)
My training was originally scheduled for spring of 2020, and well, you can probably guess why that didn't happen. We kept pushing, re-scheduling, and then pushing again, based on everyone's availability, and the ups and downs of the pandemic. This time the schedule finally "stuck."
As with our trip to Italy last fall, nothing is risk-free at this point, but cases are declining and I'll be taking every precaution. I'm vaxxed and boosted (as are the other participants), and I have plenty of high-quality masks which I'll use as needed, as I've been doing here in L.A. I'll be testing regularly as well.
I've been advised that the training schedule will be intensive for the two weeks starting Monday. You may see a mix of new posts and "encores" of some of your favorites during this time.
Stay in touch
Sign up to be notified of new posts and updates from une femme d'un certain âge.