Here's what I'm packing for 2 weeks in London…
It's time to pack and head to the airport! For the next two weeks I'll be training in color and style analysis with Red Leopard. I'm leaving a weird winter heat wave in Southern California (86F yesterday!) for chilly and wet London. Here's what I packed for 2 weeks in London.
2 weeks, 1 suitcase
This trip will be different than our usual vacation travel, so I've made some adjustments to my travel wardrobe to accommodate the circumstances.
I don't anticipate spending much time sightseeing on foot, but rather will be indoors for a good part of most days. (And looking at the current weather forecast, I'm fine with that!)
Dressing for mostly indoors means fewer layers, so I've focused on printed tops and scarves for interest and variety.
I'm only bringing one piece of outerwear that provides both warmth and water-resistance.
Still, most of the tops work with most of the bottoms, and the jackets can layer over any of the tops.
My 15-piece travel wardrobe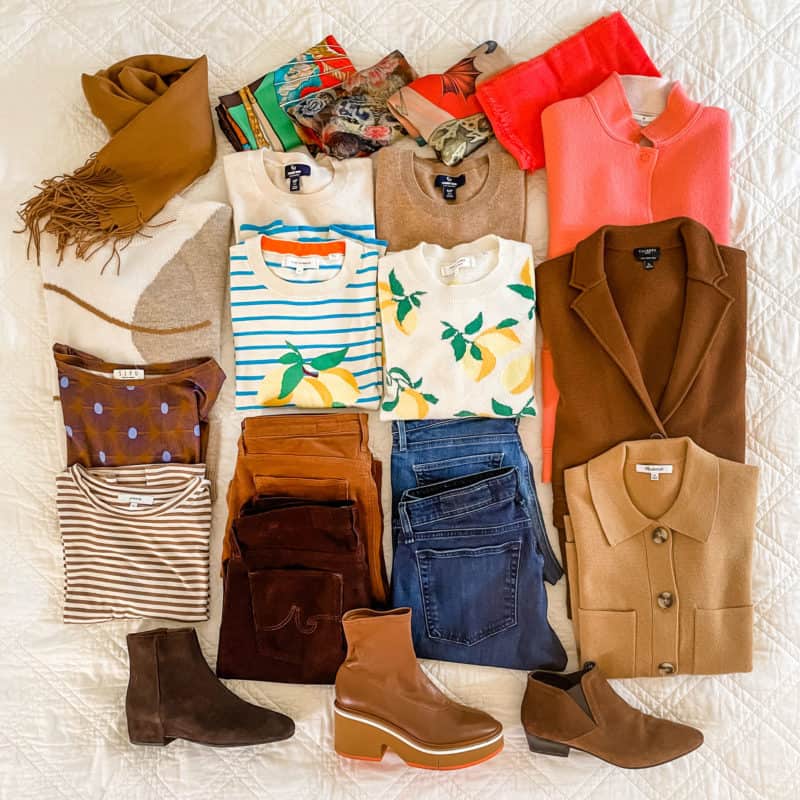 So let's dig in! Most of the pieces I'm packing for London are from prior seasons, so I've linked to similar items when possible.
Shoes
I always start with the shoes, and prioritized both comfort and water resistance in this set.
Espresso suede weatherproof ankle boots. These are comfortable enough for being on my feet all day, and can dress up if needed for evenings out.
Platform sock boots. Same style in black. Similar look in brown. These are quite comfortable, and will be a fun alternative.
Suede low Chelsea bootie (weatherproof). Similar. These will be my travel day shoes, and they're comfortable enough for all-day walking should the opportunity arise.
Based on the shoe selections, I went with a capsule of mostly brown and ivory.
Bottoms
Tops
I selected a variety of sweaters, and a couple of long-sleeved tees. Unless it's absolutely sweltering indoors, I'm usually comfortable in a lightweight sweater.
2 solid cashmere crewnecks, ivory and camel.
cashmere v-neck, ivory. (not shown)
graphic print wool sweater (similar)
cotton sweater, striped with lemon print
lightweight cashmere intarsia lemon sweater (yes, that's two lemon prints, but they're different weights and have a different look)
striped lightweight slub tee
long-sleeved graphic print top (if you wear blouses, a striped or printed blouse would work here too).
As I mentioned above, most of these pieces are from prior seasons and no longer available. I did find some print sweaters and tops that could work as well. (Click on images to view details, click arrow to see more options.)

Jackets & outerwear
I included 3 knit jackets that could be worn indoors over the lighter sweaters and tops, and will layer underneath my outerwear.
Knit short chore jacket. I can also wear this buttoned up on its own as a top.
Sweater blazer. (similar)
Reversible stand-collar jacket. (similar) For those days when I'm craving some bright color.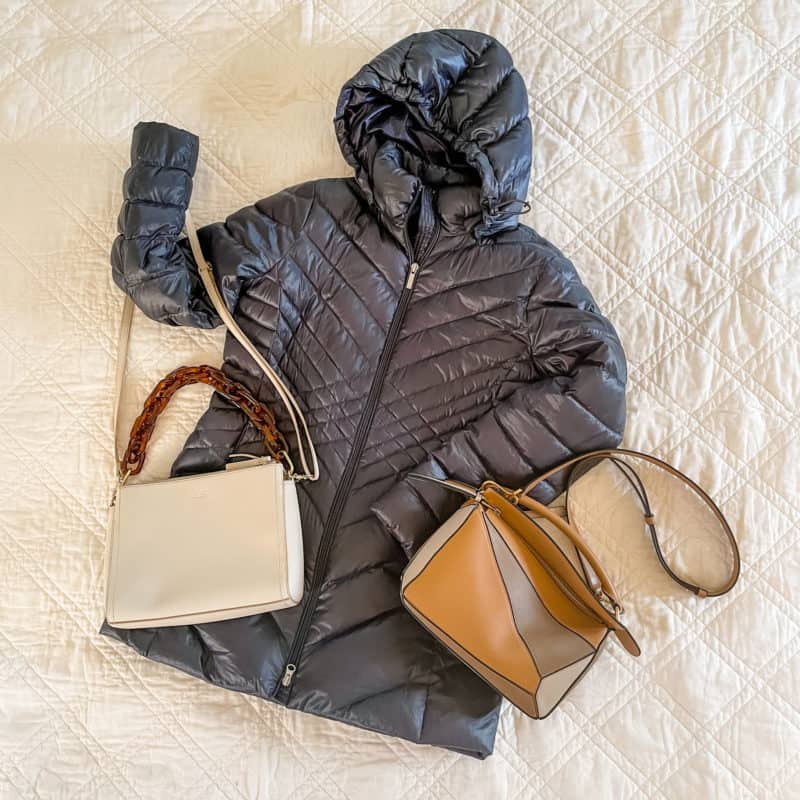 On Manina's recommendation, I'm just bringing one piece of outerwear, which is both warm and water-resistant.
Bags & scarves
I'm taking a variety of scarves in different weights.
Before I leave for the airport, I'll do one last weather check, and may either swap something out or add a Wild Card. I'll post outfits from this travel wardrobe during my trip. You can also follow me on Instagram for more updates from London!
And if you're looking for more travel wardrobe ideas and tips, be sure to check out my Travel Wardrobe Resource Hub!
Stay in touch
Sign up to be notified of new posts and updates from une femme d'un certain âge.