Regular readers of this blog may know that I'm a big fan of "le No Makeup Look." That doesn't mean eschewing makeup altogether; it just means using it selectively to enhance our features for a natural look.
We decided to call this Beauty Box "Everyday Chic," because these are some of the products you can use and wear daily. I'm a Lipstick 💄 Girl, so of course there's a lipstick. 😉
Take a look at the video, and then read more about the products below. As with the skincare, all products are paraben-free and cruelty-free.
Products for "le No Makeup Look"
Re-Creation Lip Treatment. This is a product I swear by and have been using for a couple of years. I used to be plagued with dry, rough, flaky lips, no matter how much lip balm I applied. Within a few days of using this lip treatment I saw remarkable improvement. My lips were much smoother and that flakiness was gone. I use it 2 or 3 times a day, and wouldn't be without it! As Brian says in the video, apply a few minutes before your lip color, and let it soak in.
Dahlia Cheeky Glow Creme Blush. What I love about this blush is that it looks natural and stays on. A little goes a long way. This color is more peachy, but according to Brian works with many different skin tones. If you prefer something cooler, the "Blooming" color is a nice option.
Neapolitan Longwear Gel Lipliner. This lip liner is amazing. It works with almost any color lipstick I wear, and really stays on. Keeps your lipstick from "migrating" too!
Sheer Moisture Lipstick in "Roj." Brian introduced this line of lipsticks in the Spring, and gave me some to try. I've been using them ever since. The formula is fantastic: sheer and moisturizing, but long-wearing. This is the color I wear most often. As I mentioned in the video it looks great without liner for everyday, or with liner for a more finished look. All of the colors in this line are subtle and very wearable!
Eyebrow Pencil in Natural Taupe. This is another favorite of mine for a natural, everyday look.
The Everyday Chic Beauty Box Giveaway!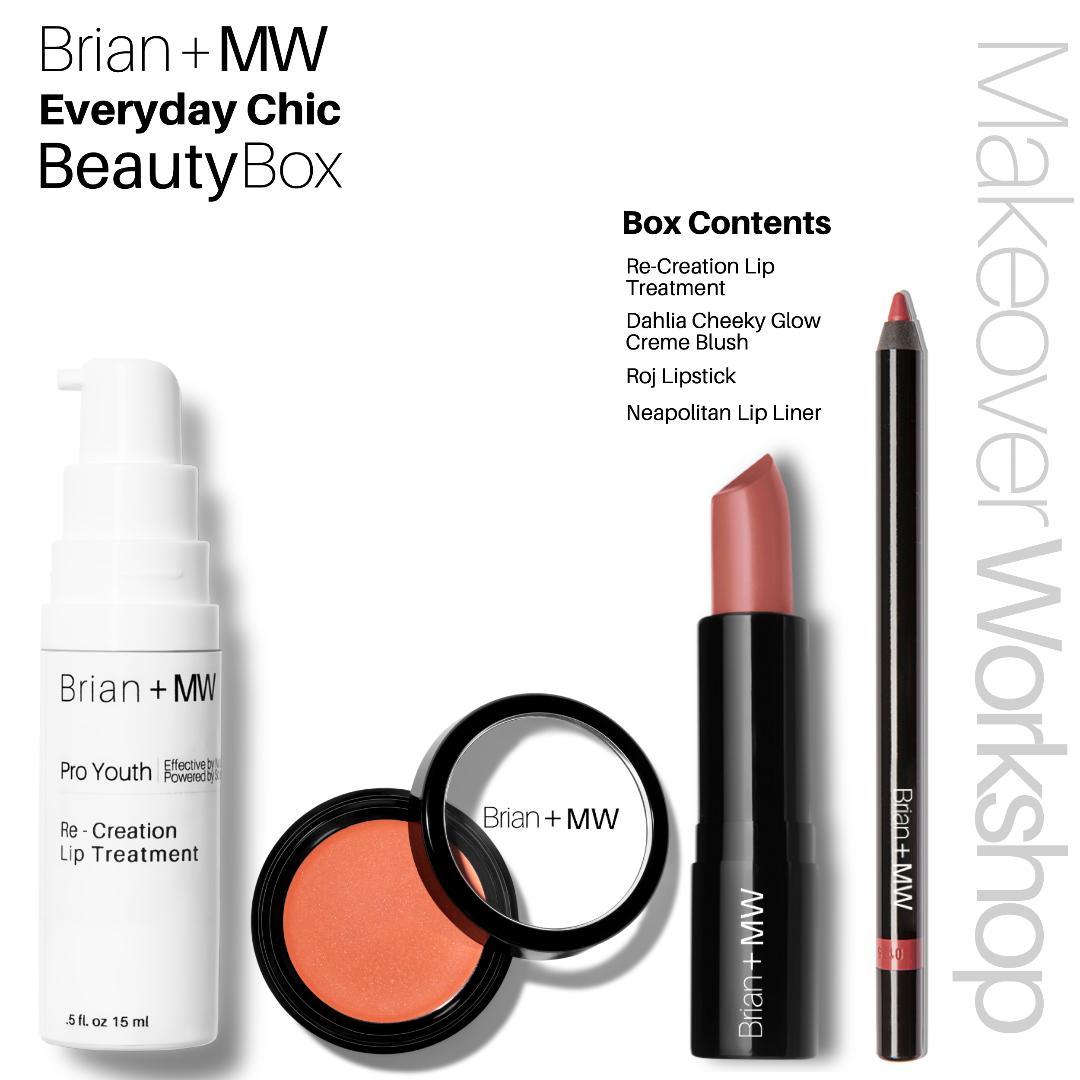 For this Beauty Box giveaway, Brian is including the Lip Treatment, Creme Blush, Lip Liner and Lipstick.
How To Enter The Giveaway
Entries will be open until 11:59pm on Sunday 11/24. A winner will be drawn at random, and will be announced once confirmed.
Leave a comment in the "Leave a Reply" field at the bottom of this blog post: what color lipstick do you wear most? (If it's your first time commenting, your comment will be held for moderation, so don't worry if it takes a few minutes to display on the post.)
Using the widget below, enter your name and a valid email where we can contact you if you are selected as the winner.
You can get additional entries by referring a friend, visiting my Facebook page, and the Makeover Workshop Facebook page. (Just follow the steps in the widget.)
Be sure to use the widget below, or your entries will not be registered!
a Rafflecopter giveaway
Bonne chance! Congratulations to Sherry S. who was the winner of the Skin Firming & Radiance Beauty Box!
Please note, you probably don't want to subscribe to comments on this post, as your inbox will fill up quickly. 😉If you'd like to be sure not to miss a post, you can subscribe using the form below. 👇
Best Of This Week's Sales
Ann Taylor – cardmembers get 50% off everything, non-cardmembers get 40% off all tops and shoes
Banana Republic – 40% off purchase, plus extra 20% off pants.
Chico's – 40% off your purchase. Code 55748
Eileen Fisher – 40% off select shoe styles
Equipment – silk tops, dresses, sweaters, and jackets, up to 60% off.
J.Crew – 30% off winter picks, code BRRR
J.Jill – cardholders get 30% off entire purchase
Net-a-Porter – up to 50% off (don't forget…NAP also carries some of our favorite brands like J.Crew and Madewell that are included in the sale.)
Nordstrom – seasonal markdowns including Eileen Fisher
Talbots – 30% off Party Favorites
Affiliate links in posts may generate commissions for unefemme.net. See my complete disclosure policy here.