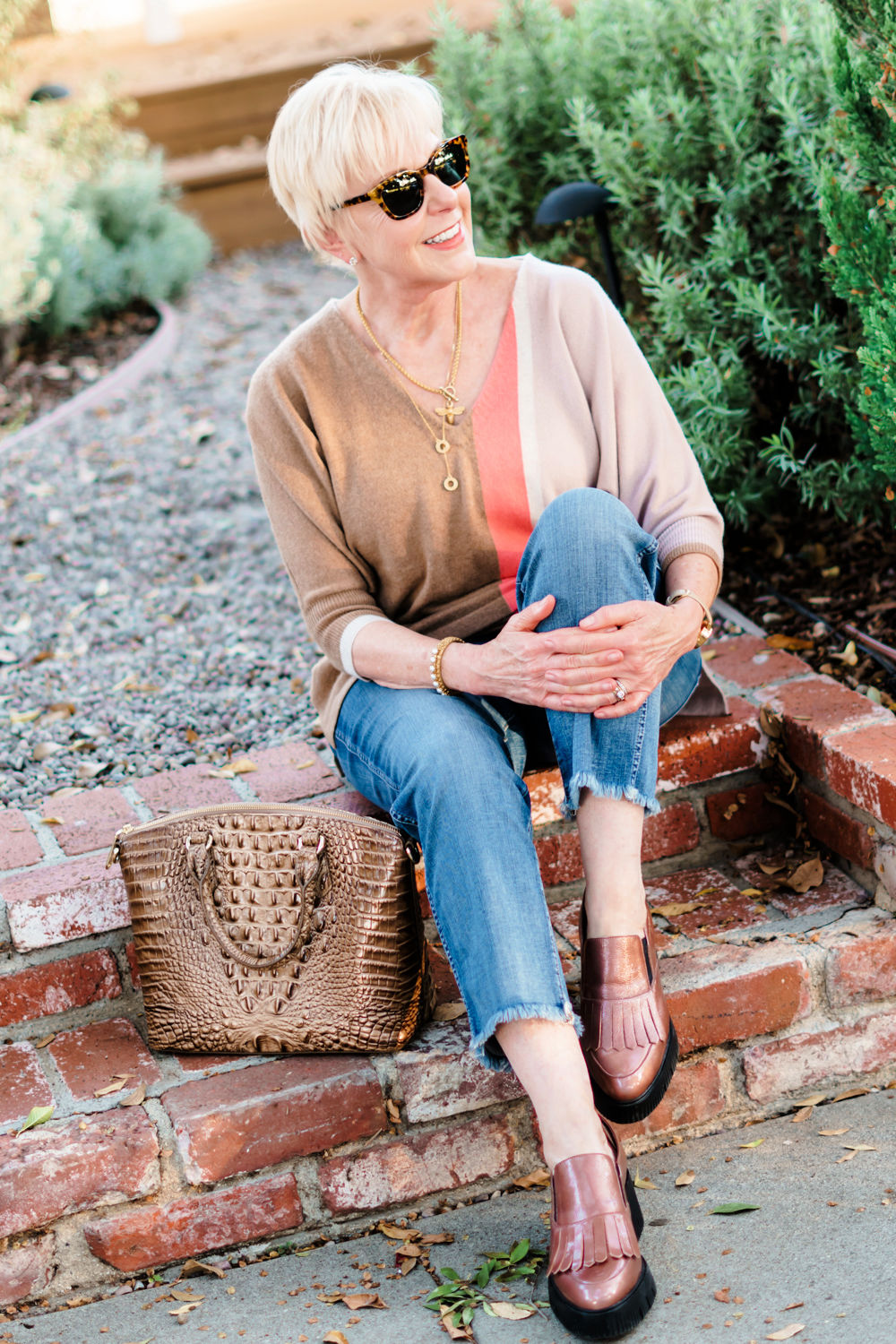 Our November weather can be weird. Over the weekend, we had what was probably the last real heatwave of the season. "Heatwave" is kind of relative though. Hot in the sun, chilly in the shade, and everyone still has the a/c cranked. Lightweight sweaters are key.
This elbow-sleeve cashmere sweater (gifted) is perfect for that kind of weather. It's from Jacynth London, and is available at The-Bias-Cut.com. I threw it on to run errands over the hot/cold weekend. But I think it would also look great dressed up with some beige or ivory trousers (still trying to find a pair I like).
A Few Things That Caught My Eye This Week…
I've been wanting to update my brown knee boots for some time, and really love the sleek, modern look of these. Have on order, will report back regarding fit. These look as though they may be made on the same last as the Day Boots that I like so much, fingers crossed!
👉Heads up: today only, Everlane is offering free 2-day shipping! So if you need something in time for Thanksgiving…
And speaking of sleek, if you've been looking for a leather jacket that's NOT a moto and NOT loaded down with hardware, this one's worth a look. Also offered in steel blue and blush colors.
I happened to be in the neighborhood earlier this week, so stopped by the Everlane store on Abbott-Kinney and picked up one of these cashmere tees. They're great for layering under a jacket, and the shorter length works for me. I chose Ivory (size Small), but I'm thinking with the holiday party season nipping at our heels, this little black tee might come in handy. Pair with a skirt or palazzo pants, throw on a velvet jacked and some sparkle…boom! Easy party look! Several other colors offered too.
This color is even prettier in person. This warm but lightweight sweater is made from alpaca, which is supposed to be less prone to pilling. And soft-hooved alpacas are a more environmentally-friendly herd animal.
Life With Senior Dogs 🐶 …
Byron, our 14-½ year-old Cavalier, has some compressed discs in his back that have left him with reduced mobility in his hind legs. We've been going for therapy and acupuncture weekly for a few months. I think it's slowed the progression, but there's definitely been a decline. Were he a younger dog, this could have been addressed with surgery, but at his age general anesthesia is very risky.
Over the weekend he started refusing to stand at all, and seemed to be in a lot of pain. There was a trip to the emergency vet Sunday night, where they gave him an injection of pain meds that seemed to provide some relief. Tuesday we went to see the regular vet, who has put him on steroids. He seems to be doing a little better already.
At this point, we're just hoping to keep him out of pain and improve the quality of his life. He's very frustrated with not being able to get up and move around on his own. He gets restless in the middle of the night, and while in the past he'd get up and wander around the house, steal a shoe, and go back to sleep, he's now not able to do that. So he just lays on the floor and growls and barks until we come sit with him. Needless to say, we're not getting a lot of sleep. The next couple of weeks should be enough to know whether it's "time" 😢yet or whether he'll continue to boss us around for a while longer.
I'll be announcing the winner of the Skin Firming & Radiance Beauty Box soon, and look for more giveaways, another starting tomorrow!
Affiliate links in posts may generate commissions for unefemme.net. See my complete disclosure policy here.