It's time to pack for Paris! Here's my 3-week travel wardrobe
What to pack for Paris in spring…
With each trip we take, it gets easier to figure out what to pack for Paris. But the weather forecasts this time have been throwing us some interesting curves so I've been making some tweaks and adjustments as we get closer to departure.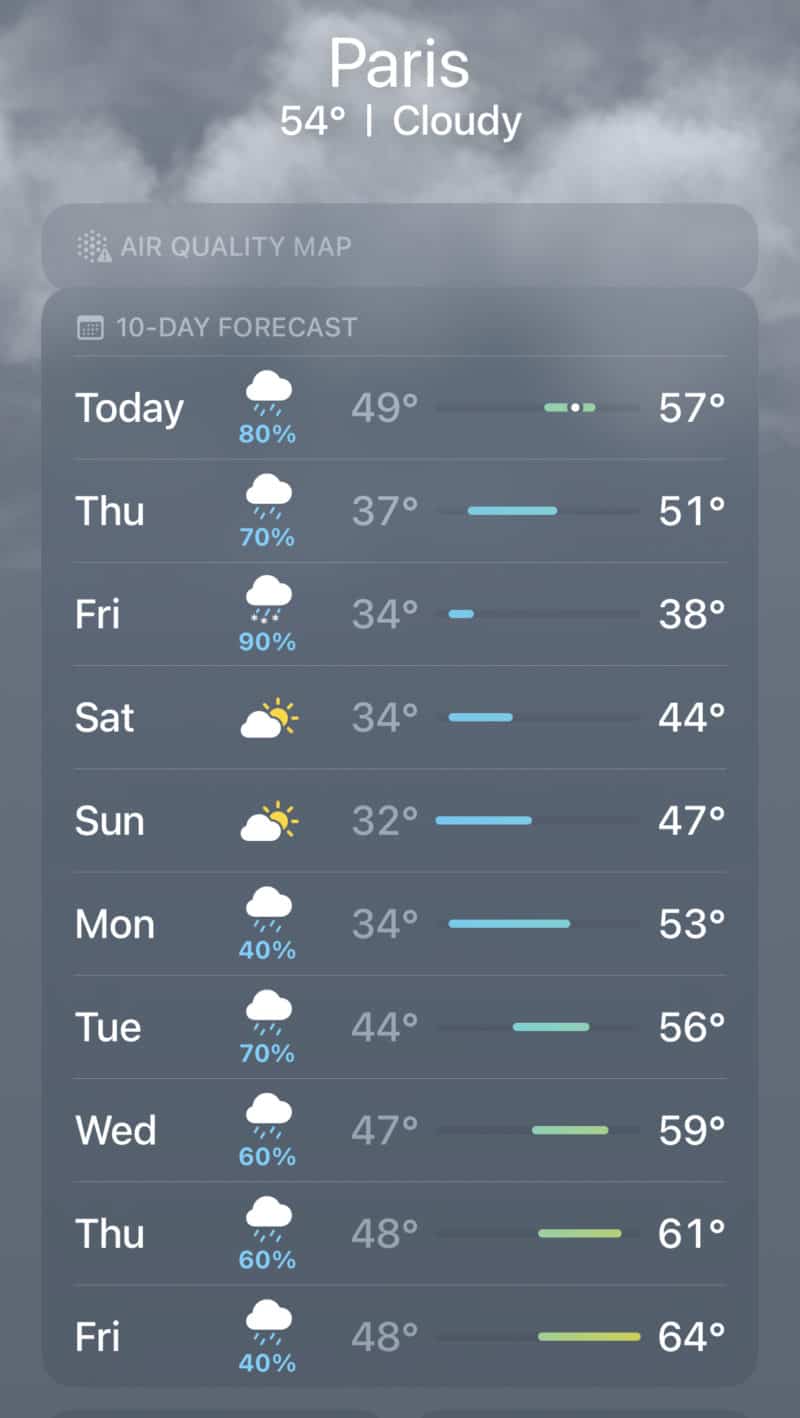 We'll be in Paris a full two weeks, and then cap off the trip with five days in London. As I mentioned here, I need to be able to fit everything into one bag that I can shlep myself. (The apartment we're renting is on the 3rd floor…no elevator.) Paris in spring is typically cool and wet (currently forecast), but we have experienced some unseasonably warm weather on prior trips. So I've included layer-able pieces that will be comfortable at a wide range of temperatures.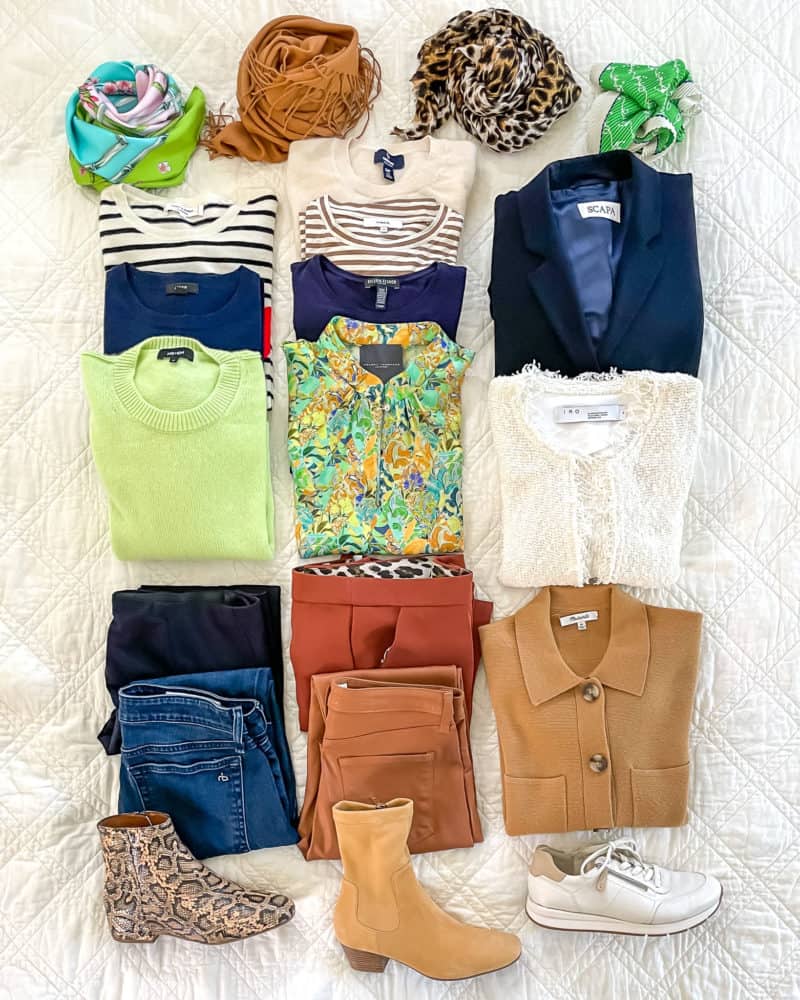 (I've lightened the images to better show detail.)
For this capsule, I started with a neutral core of navy and camel/brown, then brought in some greens for color accents. (Almost) all of the clothing is within my Spring color palette, so everything coordinates. Many of the items I'm packing are from prior seasons, so I've linked to similar items as much as possible.
My 3-week travel wardrobe for Paris and London
Here's what I've packed…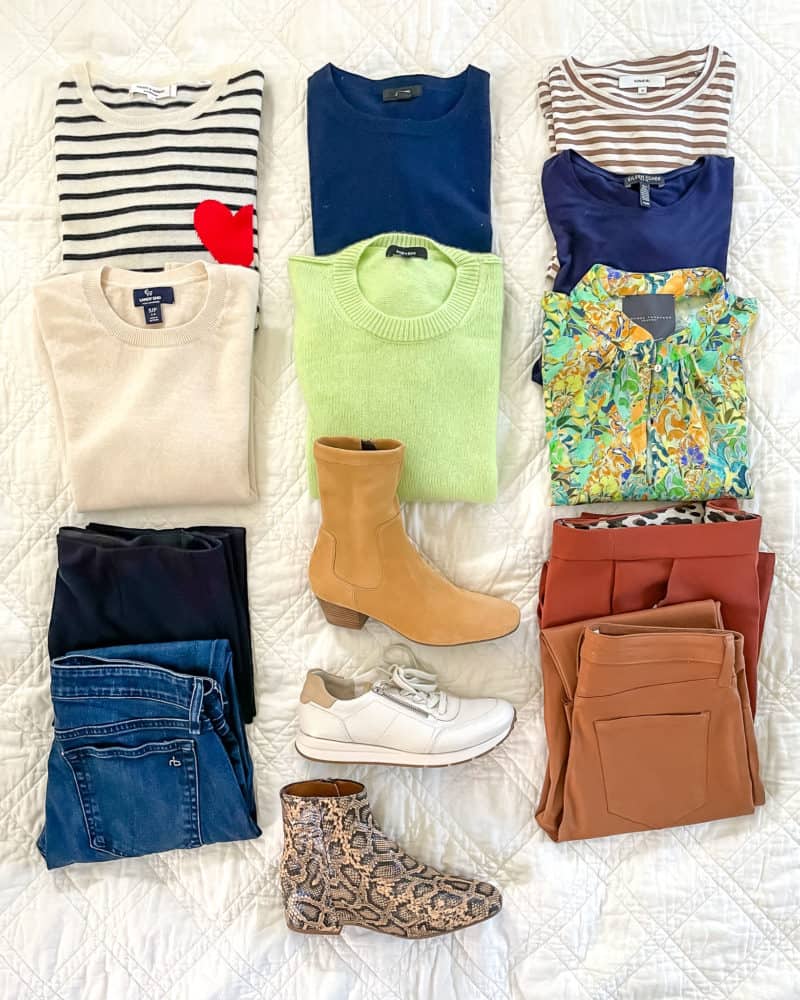 Shoes
I always advise to Start With The Shoes when planning any travel wardrobe, but this is especially important when deciding what to pack for Paris. We do a LOT of walking in Paris on all kinds of surfaces, and I need footwear that's comfortable and supportive enough for hours on my feet. Water-resistance is a plus, as is dress-up/dress-down versatility. After taking weather and our activities into account, here's what I'm bringing:
sneakers. I wished I'd packed sneakers on my recent London trip, so I'm including these. (Don't let anyone tell you that Parisians don't wear white "baskets;" they absolutely DO!)
suede mid-calf boots. This is a pair that can dress up if needed. Don't let the suede finish fool you; these are weatherproof. They're very comfortable too!
snake print ankle boots. (Similar.) These are also weatherproof, and quite comfortable for walking.
I opted for lighter colored shoes this time, as they felt more springlike and will brighten up my outfits.
Bottoms
Even though I utilize the concept of "tabletop dressing" when planning travel wardrobes, I wanted to incorporate a little more variety in the bottom half this time.
Tops
I included a variety of layering tees and sweaters, and one dressier blouse.
sweaters. I'm bringing two lighter merino wool sweaters, here and here, two cashmere, here and here.
tees. Can be layered underneath sweaters or jackets, or can be worn on their own should the weather warm up. Shown above: solid tee (similar) | striped tee. Not shown: striped tee.
print blouse. Can be dressed up or down, will layer underneath sweaters and jackets. Here's a similar style.
Jackets & outerwear
I'm including three lightweight indoor/outdoor jackets. All of these can be worn as outerwear should weather warm up, 2 of the three can be worn as a mid-layer.
long navy blazer. This lightweight wool blazer is several years old but still a favorite (brand SCAPA, originally purchased in Italy). It's a bit darker than my Spring navy, but still coordinates. Here's one with a similar look.
knit boucle jacket. My "nice dinner out" option.
knit chore jacket. This jacket just seems to go with everything, and can also be worn buttoned as a top.
I'd originally planned to pack some different outerwear, but the forecasted plunge in temperatures nixed that idea. I know you're probably bored with this down coat (I am too) but it's the best thing I have on hand for cold, wet weather.
packable down coat. (Similar, Plus) It's lightweight, it's water-resistant, and comfortable in a range of temperatures.
packable rain jacket. (not shown) Mine's an older style from Eileen Fisher. It has a swing shape and is basically a shell that I can layer up underneath as much as needed. Here's one with a similar look in black and "sea salt."
I'd ordered a couple of other raincoats to try, but they didn't work out. I may shop for something while I'm in Paris. I'll be taking my Pearl crossbody from Lo & Sons; I will probably add a second bag, still deciding.
Scarves
I'm bringing a variety of sizes and weights. Shown above:
Underpinnings
I'm also bringing a set of silk long underwear, Just In Case. (top | bottom). And some lightweight wool socks.
Wild Card
I always double-check weather forecasts right before we leave for the airport, and allow myself to make a swap or two, and add one piece on a whim. I'll share what changes & "wild card" I've packed for Paris once we arrive. And of course, I'll be sharing outfits here and lots more from our trip on Instagram. (I may even do LIVE or two…)
Next stop…Paris!!!
Thanks for reading! If you enjoy une femme d'un certain âge, please support me by sharing on Facebook, Pinterest, or other social media, and subscribe HERE to receive email notifications of new posts, and exclusive content. Thank you!
Stay in touch
Sign up to be notified of new posts and updates from une femme d'un certain âge.