Last week's Instagram chat and post about detoxing our wardrobes fired me up, and I spent several hours over the weekend doing an even deeper dive into my closet. Including my jeans section. 🙀 I decided to focus on 4 styles to wear now and into fall, and put the rest into storage.
4 jeans styles I'm keeping for now (and fall)
I have to confess, I'm a bit of a jean-a-holic. Except for the hottest days (and sometimes even then), I live in jeans. I've worn just about every style except wide legs (just can't make those work for me). What I've culled and set aside are:
the last couple pairs of skinnies I was hanging onto
super dark washes
cropped flares
The fab four: jeans styles for fall
What I've mostly been wearing are ankle(ish)-length, mid-rise, straight-leg styles (slim to relaxed) in a medium to light washes. These are what suit my shape and style and feel most current, and I plan to stick with those for now and into fall. Here are the four styles that made the cut:
AG Ex-Boyfriend. (Similar wash) These are the most relaxed cut of the four. I'm actually keeping 2 washes in this style (medium/distressed and light) because they're the most comfortable when it's warm. Here's a pair that's included in the Anniversary Sale.) They run TTS, and have a mid-rise. (I wear size 27.) See how I wore them HERE.
J. Crew 9″ Vintage Straight. Mine are the white with gold stitching (off-white, actually). This particular wash is "final sale;" I have no idea why. There are several other washes available in this style, in Classic, Petite, and Tall lengths. (I wear 27 Petite.) See how I wore them HERE.
AG Prima Crop. (Similar wash) This is as close to a skinny as I'll wear these days. The cut is sometimes referred to as a "cigarette leg." The difference between this style and a skinny is that it's cut straight from the knee down, rather than tapering or narrowing toward the ankle. I find these easy to style, and they work with just about any shoe. (I wear 28 in these.) See how I wore them HERE.
rag & bone "Dre." This is a new pony in the stable.🐎 During a pass through our local Nordstrom to check out the Anniversary Sale merchandise, I tried these on and loved how they looked and felt. The fit is slimmer through the hip and leg than the AG ex-boyfriend style, but still quite comfortable. You'll definitely want to size down on this style; I'm wearing a 26. (I'm thinking of having these hemmed just a bit so I can wear them uncuffed.)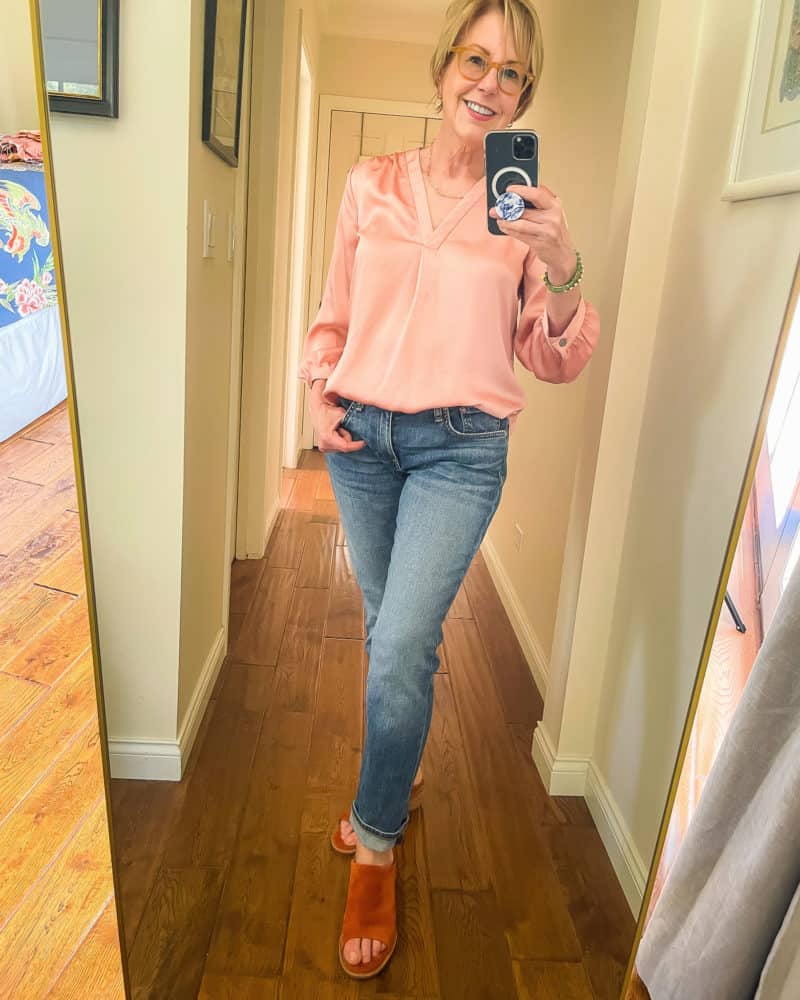 I styled the rag & bone Dre jeans here with a few other Nordstrom Anniversary Sale pieces I found. This Instagram reel shows more detail on the accessories:
I highly recommend these sandals for comfort and looks! They run TTS.
How to care for your jeans to make them last longer
Good jeans can be an investment, but should last a long time with proper care. Here are a few tips I've picked up over the years.
Unless you've fallen in a mud puddle, hold off washing your jeans for several wearings (if at all). It took me a long time to get comfortable with this, but often a spot clean and good airing is all your jeans need. If you've been snuggled by a (clean) wet dog 🐶, you can always use a freshening spray.
If you must wash, turn inside out, use cold water and a shorter wash cycle. (Delicates, if you have it.)
Line drying is best. If you have to finish in the dryer, keep the heat low. (Here's a trick I use to reduce drying time and save energy: throw a clean, dry towel into the dryer with your clothes.)
Some people swear by putting their jeans in a bag in the freezer for a day or two to remove odors. (I haven't tried this yet.)
OK, and use this sparingly: if your jeans have stretched out and need to be reshaped, put inside out in a dryer on LOW heat for 15 minutes.
What jeans styles are you planning to wear this fall? Will you be trying any new silhouettes?
If you enjoy my posts and find them helpful, please share on Pinterest or other social media. You can also subscribe to my newsletter to receive all updates and exclusive weekly content direct to your inbox. Click HERE to subscribe.
Affiliate links in posts may generate commissions for unefemme.net. See my complete disclosure policy here.