How to be comfortable & polished for travel 🧳
I'm old enough to remember when "airport style" meant wearing our Sunday best. These days, it's pretty much "anything goes." While I'd never want to go back to traveling in stiff, uncomfortable clothing, I DO want to feel neat and put-together, both in transit and upon arrival. Here are some tips and comfortable travel outfit ideas…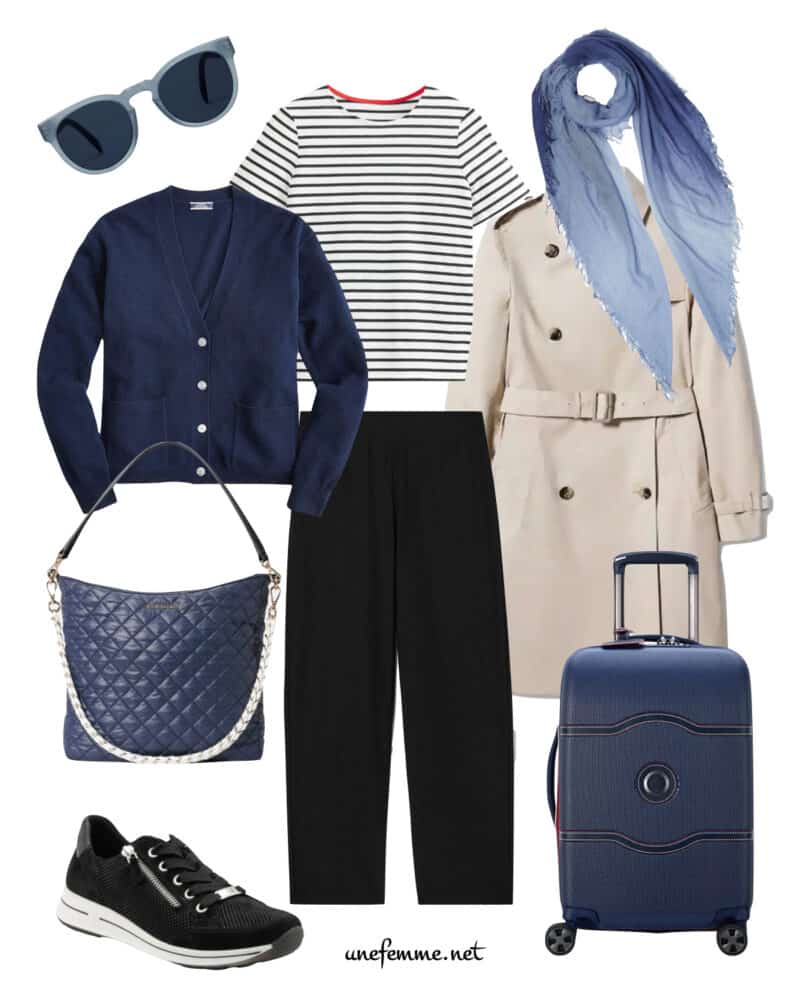 Your personal style, comfort levels, climate, and destination will all factor in to what works best for you for travel. But here are a few guidelines that will help you get from here to there comfortably and in style:
Travel in style (without sacrificing comfort)
If your goal is to keep luggage light, you'll want to wear your heaviest items in transit.
Temperatures in airports or terminals, or on board planes, trains, busses can fluctuate wildly. I always wear/carry 2-3 lightweight layers that I can add or remove as needed. Lightweight knits in natural, breathable fibers will keep you most comfortable.
Avoid anything tight or binding, which will only become more uncomfortable over a long flight or ride. (Many of us find we may get a little bloated at altitude, be sure to allow for this.)
Avoid excessively loose, flapping clothing or design details that can get caught in turnstiles, armrests, etc. (My personal preference is to stick with styles that button, snap or zip closed.)
Even during warmer months, I always pack a lightweight scarf or wrap, in case of excessive air-conditioning.
Footwear
Even if I'm packing sandals for my destination, I always stick to closed-toe shoes for travel days. Partly because my feet tend to get cold, but mostly for protection. (If you've ever had someone in a hurry run over your feet with a heavy wheeled bag, you'll be grateful…)
Airport security is a big pain point for most of us. It seems to be an absolute crap shoot these days as to whether we'll be required to remove our shoes, even with priority or "trusted traveler" clearance. So I always assume I'm going to have to remove my shoes at some point and wear a) socks and b) shoes I can slip on.
I love these sneaker styles with a zip, which you can get in and out of without having to fuss with laces!

Pants
I usually travel with jeans, and will often wear a pair with some ease and stretch, even for long-haul flights. But I know that's not most people's preference. Knit pants or trousers would be my next choice, and today you have a LOT of options for styles and fabrics. I'd recommend sticking with a dark color that will be easier to dress up and less likely to show any dirt or spills.
A popular style with my readers (and one I've traveled with quite often) are the slim washable stretch crepe pants from Eileen Fisher. These are a sleek, simple style that can be dressed up or down, and come in a bunch of colors, sizes Petite P to 3X.
In my experience, they wear like iron and are comfortable in a range of temperatures. They work best with tops worn un-tucked.
If you prefer skirts to pants, here's a midi skirt in that same washable stretch crepe fabric.
If you like to tuck your tops, or just prefer a more traditional trouser style, these ponte knit trousers are available in multiple colors, in Misses, Petite and Plus. They're also washable.
These lantern pants are currently one of my favorite styles. I own a pair of these (brown, no longer available) and love them for travel. They're comfortable, washable, and look sharp enough for "smart casual." In black, they're still available in most sizes from XXS-2X.
This style is also offered in a bunch of different fabrics and colors here: SHOP LANTERN PANTS.
Tops
As I mentioned above, I usually wear and/or carry 2-3 layers (not including outerwear) for the top half of my travel outfits.
As a base layer, I always include one of these silk jersey tanks. They not only provide a little additional warmth (or can be worn on their own if the thermostat gets cranked up) but also help my tops stay cleaner longer, IMO. Mine are in the Bone color and are several years old and still going strong. This one is available in Black and Espresso, sizes XXS-3X.
This style in Tencel jersey has a higher neck and wider straps, and is available in black and white, sizes XXS-3X.
Depending on the season and what else I'm packing, I'll wear a simple short or 3/4 sleeve tee in cotton or cotton blend. This one from Madewell has a refined look and is available in several colors, Misses & Plus sizes.
Here's a v-neck option in linen. And if you want a little more arm coverage, this cute long sleeve Breton is offered in several color options, sizes 2-22.
Sweaters
A lightweight cardigan is a versatile option for travel. It can be worn as a top or middle layer, or tied over the shoulders. Both merino and cashmere are excellent for travel, as they're lightweight and warm. I have that v-neck cardigan shown in the collage at top and love it.
If you prefer something longer, this one from Vince is quite good, and marked down for a limited time.
A cashmere hoodie is another option, and this one is quite budget-friendly. (For a more elegant look, stick to darker neutrals.)
If you're looking for something wool-free, cotton can be tricky as it tends to be heavier and bulkier than wool knits.
This classic cardigan is a Tencel/silk blend. While it may not be as warm as cashmere, it will be easy to layer, and may be a better choice for warmer seasons or destinations. It's available in several colors, sizes XX-Small to 3X (runs small, suggest sizing up).
Linen knits are another good wool-free option, and are comfortable in a range of temperatures. This cardigan is available in Misses XS-XL , and a pretty Raspberry color in Plus.
Scarves
As I mentioned above, I never travel without a lightweight large scarf or wrap.
This leopard print scarf is one of my favorites, because it just seems to go with everything! (Here's one black/gray/white for you cool-toned folks.) It's a silk-cashmere blend, very lightweight, and can be washed.
Here are a few more options in the same lovely fabric…

If you have travel planned and aren't sure where to start with your packing list, check out my post, "How to create the ultimate 12-piece travel capsule wardrobe." And for more travel and packing tips, visit my Travel Wardrobe Resource page!
Thanks for reading! If you enjoy une femme d'un certain âge, please support me by sharing on Facebook, Pinterest, or other social media, and subscribe HERE to receive email notifications of new posts, and exclusive content. Thank you!
Stay in touch
Sign up to be notified of new posts and updates from une femme d'un certain âge.